Saadhana : APSC Prelims Test Series 2023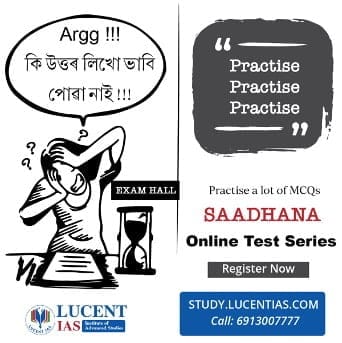 Call 6913007777 for any queries or payment related issues.
Register for the ASPC CCE Prelims Test Series (SAADHANA)

( All payment methods accepted)
A set of comprehensive full-length test series for APSC CCE 2023-24 Prelims
Contains very highly exam-centric questions with detailed solutions.
Multiple re-attempts are allowed for each test
Assess your performance in the competition through the leaderboard 
Downloadable features will be available (terms and conditions applied)
Supercharge your APSC Mains test scores : Get the Lucent IAS advantage!
Are you looking to excel in the APSC Mains Exam? Do you want to improve your answer writing skills and increase your rank inmerit list? Look no further than Saadhana – Our online APSC Mains Test Series!
With our course you will be able to structure your answers, organize your thoughts, and present your ideas in a clear, concise manner. With our step-by-step guidance, you will learn how to craft answers that are well-structured, well-reasoned, and well-articulated.
We understand that coming up with a well-structured answer synopsis can be challenging. That's why we provide structured answer synopsis for every question. With our course, you will have a clear understanding of how to approach every question and develop a strong answer synopsis and write a definitive answer that covers all the key points.
Our APSC Mains Test Series includes 18 full-length papers, giving you ample opportunity to practice and refine your answer writing skills. We provide 300+ high-rank questions to help you identify and focus on the most important topics. You will receive valuable feedback on your answers, helping you identify your strengths and weaknesses and improve your overall performance ( available with Evaluation pack)
Our course includes 5 general studies (GS) papers, covering a wide range of topics, and one essay paper. You will learn how to approach different types of questions and develop answers that showcase your knowledge and understanding of the subject matter.
In addition to the test series, we offer answer submission and personal evaluation services. You will have the opportunity to submit your answers for evaluation by our experienced instructors. We provide personalized feedback on your answers, helping you identify areas for improvement and develop your skills (available with Evaluation pack)
Our APSC Mains Test Series is designed to help you achieve your goals and succeed in the exam. With our course, you will have the tools and skills to excel in answer writing, improve your overall performance, and increase your chances of success.
Don't let the APSC Mains Exam intimidate you. Sign up for our online APSC Mains Test Series today and take the first step towards success!
Copyright @ Lucent Institute of Advance Studies , 2022
Join Our Newsletter for free!