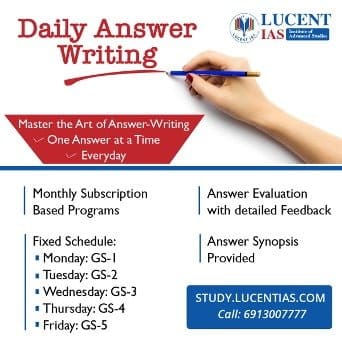 Call 6913007777 for any queries or payment related issues.
Register for APSC Mains Answer Writing Course

( All payment methods accepted)


Ensure perfection in your Mains Answers by practicing Answer Writing everyday, under proper guidance
Monthly Subscription Based Program
Detailed Answer Synopsis provided for every question
Answer Evaluation with detailed feedback given to each candidate
One-to-one session for personal guidance
This is a monthly subscription based service.
Lucent Institute of Advance Studies
Foundation
Optional
Test Series
CSAT
Subscribe to our newsletter for latest news, update and great offers !