APSC Mains Essay Course 2023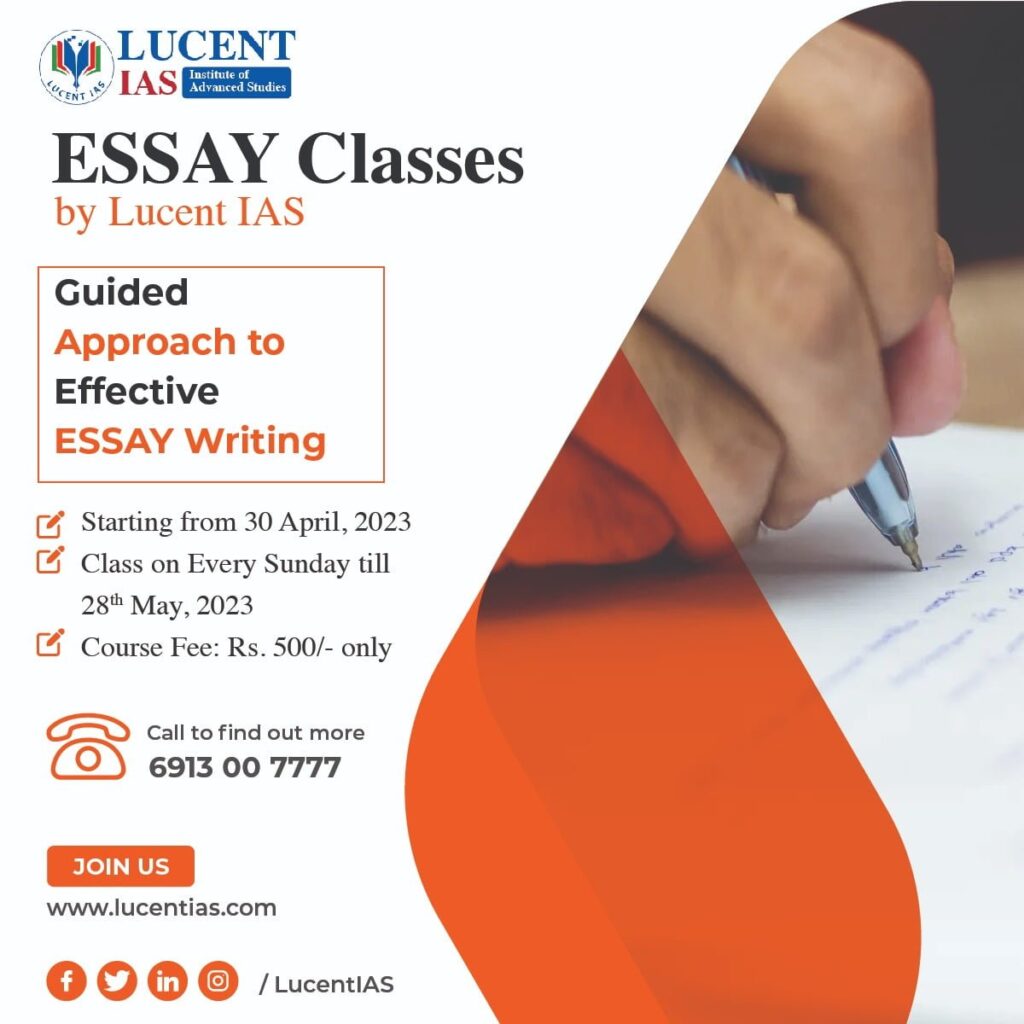 Call 6913007777 for any queries or payment related issues.
APSC Mains Essay Course Highlights:
1.  Guided approach to structure the essay
2.  Effective language and tone
3.  Essay drafting framework / ideas
4. APSC Mains Essay topics
5.  Tips and techniques to frame the thoughts
6.  How to tackle difficult topics?
7. Sample outlines for topic discussed
Boost your APSC Mains Essay scores : Join today for highest improvement !
Are you preparing for the APSC Mains Essay Exam and feeling intimidated by the essay writing section? Do you want to learn how to structure your essays effectively and use language that impresses the examiner? Look no further than our online APSC Mains Essay course!
Our course offers a guided approach to structuring your essays. We will teach you how to organize your thoughts and ideas and present them in a logical, coherent manner. With our step-by-step guidance, you will learn how to craft essays that are clear, concise, and convincing.
In addition to structure, we focus on teaching effective language and tone. Our experienced instructors will guide you on how to use persuasive language and appropriate tone to engage the reader and create a lasting impression. You will learn how to use language to convey complex ideas in a simple, understandable way, making your essays stand out from the rest.
We understand that coming up with ideas for your essays can be challenging. That's why we provide you with a comprehensive essay drafting framework and ideas to help you get started. With our course, you will learn how to brainstorm, organize, and develop your ideas in a way that is compelling and coherent.
The APSC Mains Essay topics can be daunting, but with our course, you will learn how to tackle them with confidence. We will provide you with tips and techniques to frame your thoughts and articulate your ideas clearly and effectively. You will learn how to approach even the most challenging topics with ease and write essays that showcase your skills and knowledge.
We also teach you how to tackle difficult topics that require critical thinking and analytical skills. You will learn how to analyze and evaluate complex issues, and present your ideas in a way that is convincing and persuasive.
Finally, we provide sample outlines for the topics we discuss in our course, giving you a clear understanding of how to structure your essays. With our course, you will have the tools and skills to write essays that will impress the examiners and increase your chances of success.
Sign up for our online APSC Mains Essay course today and take the first step towards success!
Copyright @ Lucent Institute of Advance Studies , 2022
Join Our Newsletter for free!