APSC Interview Guidance
Course 2023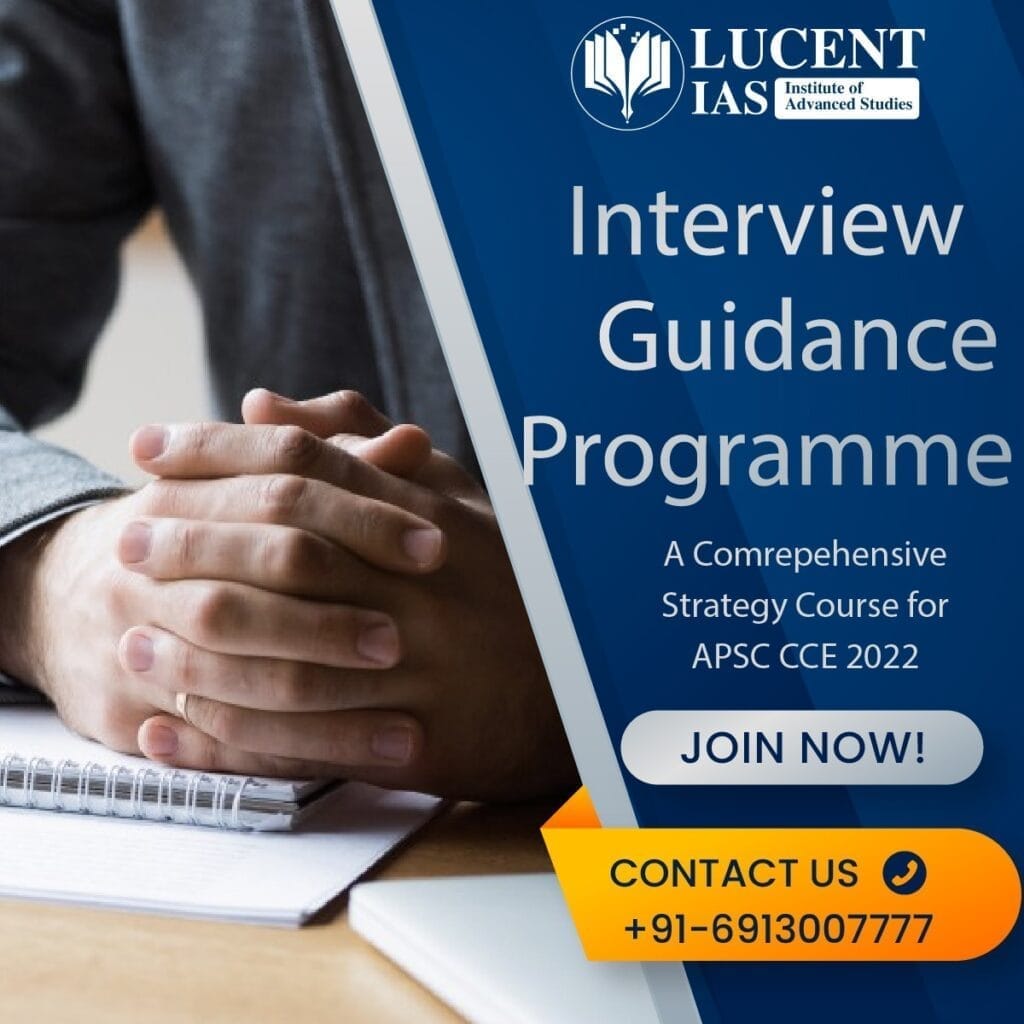 Call 6913007777 for any queries or payment related issues.
APSC Mains Essay Course Highlights:
1.  Interview Success Strategies
2.  Real feel mocks and feedback
3.  Personality improvement and grooming hacks
4.  Few Dates available in Nov and Dec'23
5.  Exclusive current affairs handbook!
Unlock Your Success with APSC Interview Guidance Course!
Are you ready to take the next step towards your dream career in Assam Public Civil Services (APSC)? Your journey to success begins here, with our comprehensive APSC Interview Guidance Course.
🚀 Why Choose Our APSC Interview Guidance Course?
🌟 Expert Guidance: Our experienced mentors are here to guide you through every step of the APSC interview process. Benefit from their deep insights and personalized strategies.
📚 Comprehensive Coverage: We leave no stone unturned. Our course covers all aspects of the APSC interview, from mock interviews to current affairs, personality development, and more.
💡 Interview Success Strategies: Master the art of interviews with proven strategies that will help you stand out in the crowd.
📋 Mock Interviews: Practice makes perfect. Our mock interviews, structured like the real thing, ensure you're interview-ready.
📰 Current Affairs: Stay updated with the latest news and events – a crucial component of your interview preparation with our exclusive compilation.
👥 Group Discussions: Hone your communication and critical thinking skills by engaging in group discussions with peers in the event.
🧐 Personality Development: Develop the confidence and charisma to impress the interview panel.
📈 Success Stories: Hear from past candidates who aced their interviews with our guidance.
📝 Personalized Feedback: Receive detailed feedback on your performance, helping you identify strengths and areas for improvement.
🥇 Maximize Your Chances of Success: Join the ranks of successful APSC candidates who've taken our course and secured top positions.
🔥 Don't Miss Out! Enroll Today!
Don't let the APSC interview be a hurdle in your path to success. Enroll in our APSC Interview Guidance Course and gain a competitive edge. It's time to shine and secure your dream role in Assam's civil services.
📌 Limited Seats Available: Hurry, as seats are filling up fast. Secure your spot today.
📞 Contact Us: Have questions? Contact our support team for assistance.
🔗 Explore More: Discover our course modules, pricing, and more on our website.
✅ Why wait? Your success begins with us. Enroll now!
Copyright @ Lucent Institute of Advance Studies , 2022
Join Our Newsletter for free!