The best APSC Coaching Centre in Guwahati- Lucent IAS – presents today's Current Affairs for APSC CCE. Sources from important news and articles published in The Hindu, The Indian Express and The Assam Tribune. (Date: 30 August, 2022)
Assam with the Highest Rate of Crime against Women in 2021 (Prelims/ GS-2 / GS-3)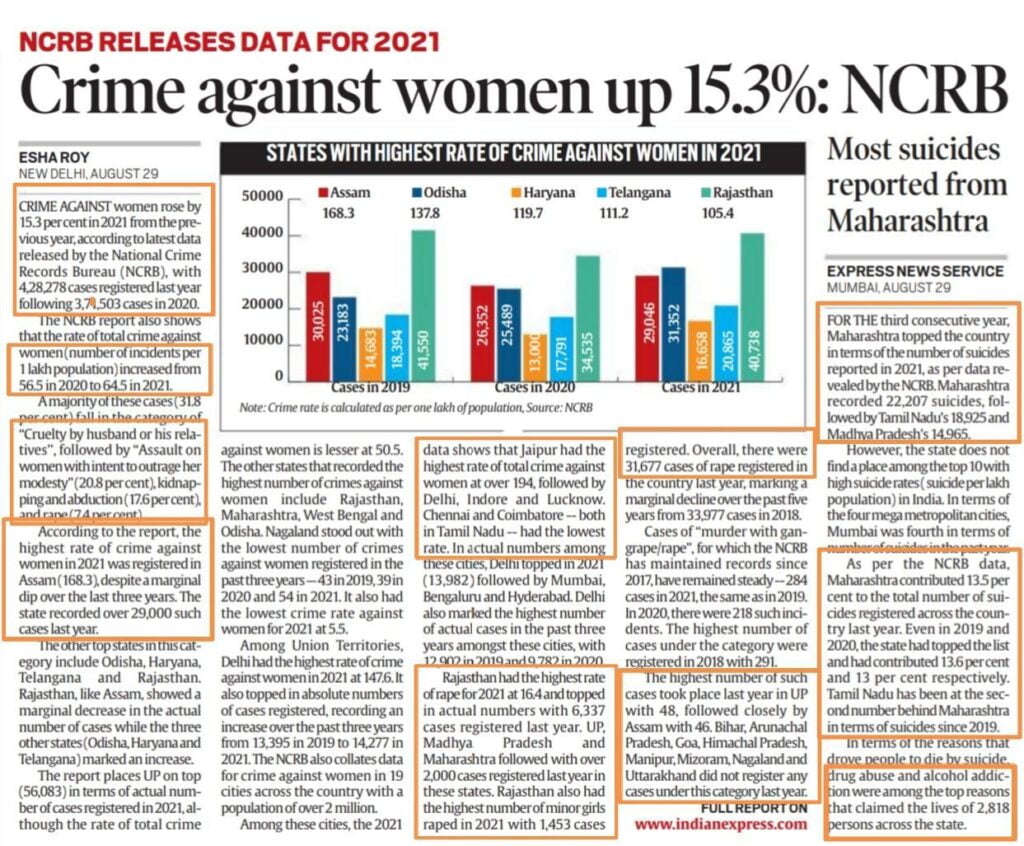 NCRB data points out at rising crimes against Women
The National Crime Records Bureau, abbreviated to NCRB, is an Indian government agency responsible for collecting and analysing crime data as defined by the Indian Penal Code and Special and Local Laws.
Rise in crimes against women
Rate of total crime against women (no. per 1 lakh population) increased from 56.5 in 2020 to 64.5 in 2021. 
Majority of cases fall in category of 'cruelty by husband or relatives' , followed by 'assault on women with intent to outrage her modesty', 'kidnapping', 'rape'.
Highest rate of crime against women registered in 2021 was in ASSAM (168.3)
UP is on top on actual numbers. (56,083)
Jaipur had the highest rate of total crime against women at over 194. 
Rajasthan had the highest rate of Rape cases. 
Fiscal consolidation and strained State-Center Relations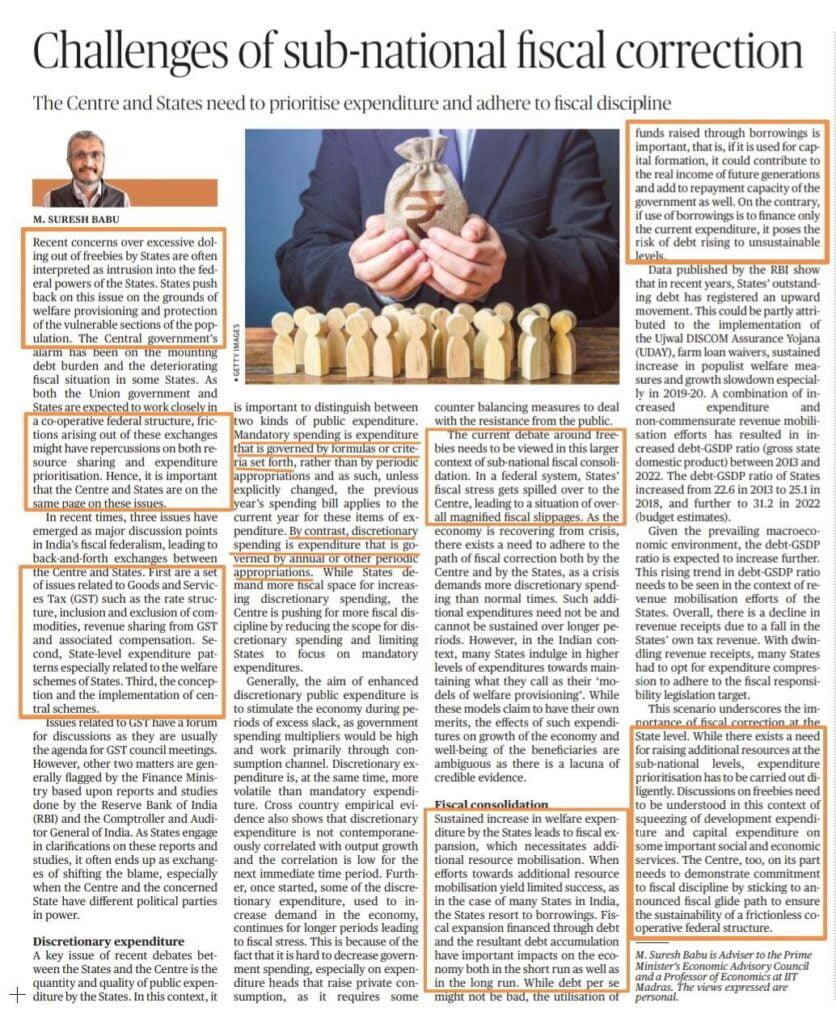 KEY TAKEAWAYS
Recent concerns over excessive dolling out of freebies by States are often interpreted as intrusion into the federal powers of the States. 
States push back on this issue on the grounds of welfare provisioning and protection of vulnerable sections of the population. 
This article discusses on the issue on how there is an evident strain in the relation between Centre and States where there are different parties in power. The fiscal federalism is mostly affected and this leads to back and forth exchanges and blame game starts. This undoubtedly leads to political tensions which the common people finally has to pay for. 
Thus, the current debate around freebies needs to be viewed in this larger context of sub national fiscal consolidation.
UN Treaty for Protecting Oceans (Paris Agreement)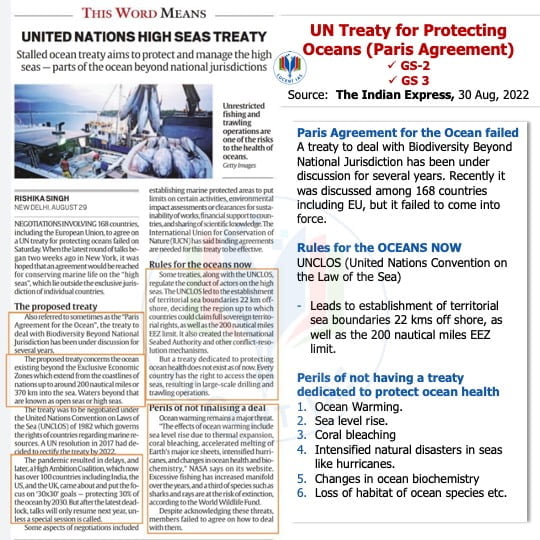 GS-1(Society): Caste discriminatory practices and Inequality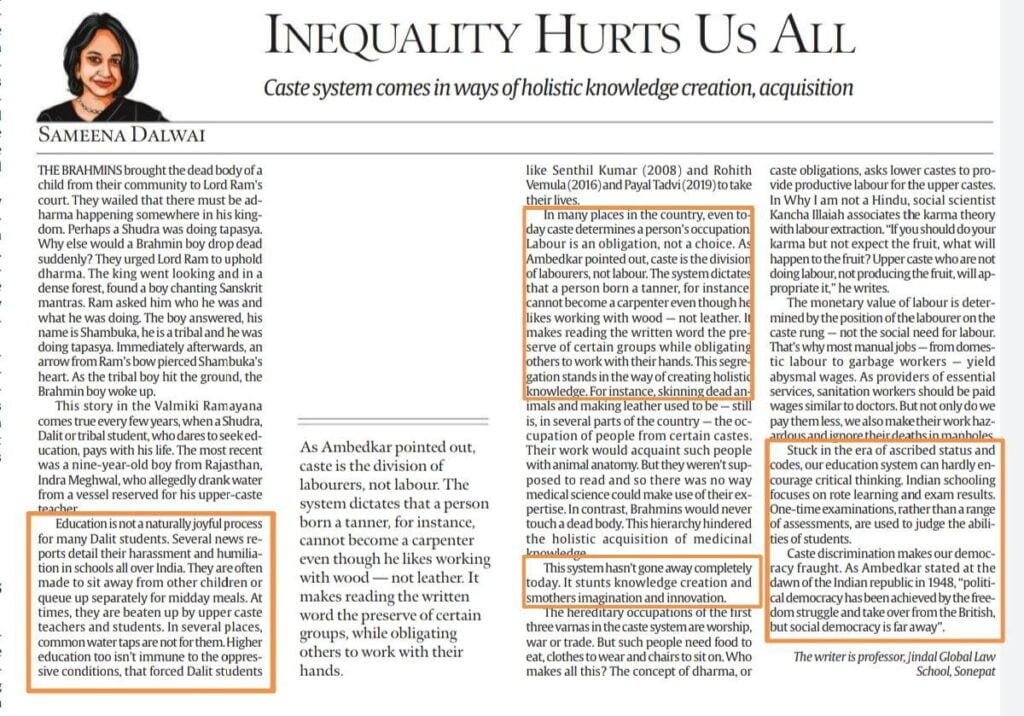 Caste discriminatory practices and Inequality
This article details on the recent day most alarming issue of caste discrimination and the issues people from Dalit groups faces in their struggle to gain education. 
The discriminatory practices, the humiliation and the harassment the students of the lower sections of the caste hierarchy in India faces till this date is something we should worry about. 
The writer further details on how even to this day caste determines a person's occupation and for people of lower strata, Labour is an obligation, not a choice. 
"Political democracy has been achieved by the freedom struggle and take over from the British, but social democracy is far away."

Ambedkar (at the dawn of Indian republic in 1948)
GS-2/GS-3 : Economic Angle in the Distribution of Freebies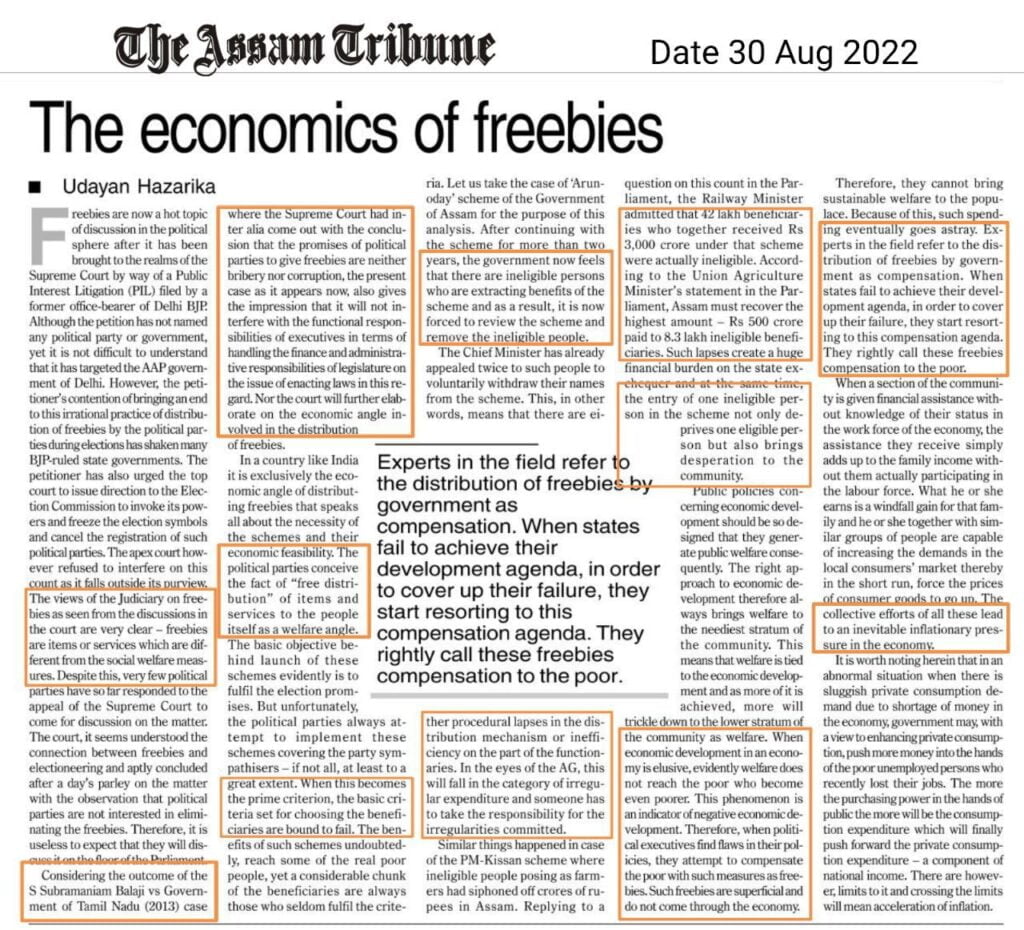 Refer to current affairs of 29th August 2022: 'Judicial Parameters for Freebies'. Click Here to Read More.
Prelims/ GS-5: Jatinga and the fate of migratory birds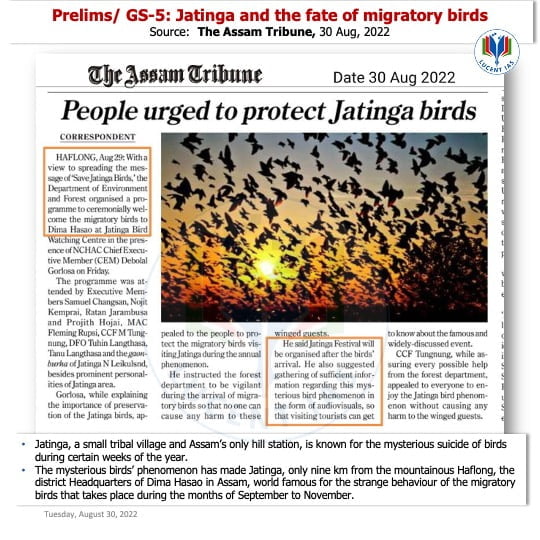 GS-3: The New facets of Terrorism and Spying Democracies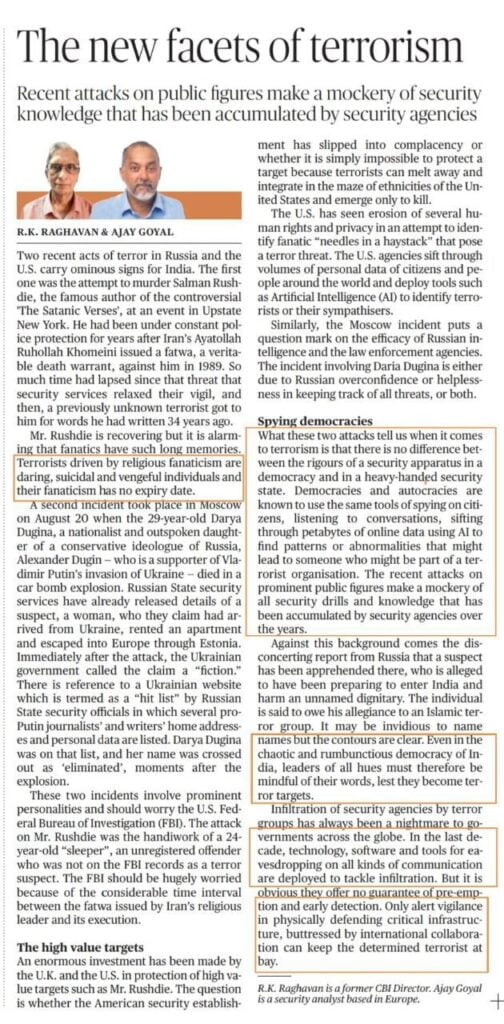 KEY TAKEAWAYS
Terrorist driven by religious fanaticism are daring, suicidal, and vengeful individuals and their fanaticism has no expiry date. This is a case to worry about for all the security agencies across the world.
State, irrespective of their functioning mechanism, are using tools to spy in citizens under the garb of national security. The recent attacks on prominent public figures (Rushide, Shinzo Abe, Darya Dugina) make a mockery of all security drills of the State. 
In the last decade, technology, software and tools for eavesdropping on all kinds of communication are developed to tackle infiltration, but there is no guarantee of early accurate detection of crime. 
Alert vigilance in physically defending critical infrastructure, with international collaboration can keep the determined terrorists at bay. 
The terrorism today is not limited to a country alone, all forms of terrorism today is now global.
Today's MCQ for APSC CCE Prelims (Solved)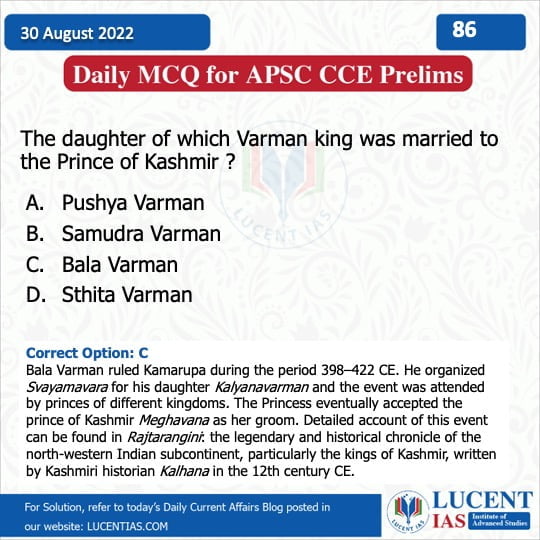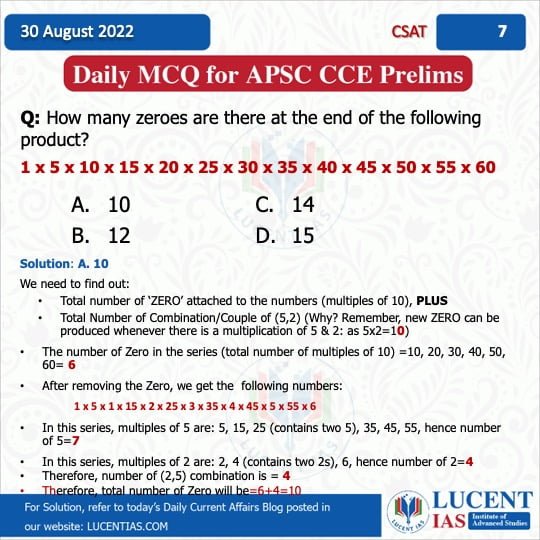 Download the full PDF of the daily Current Affairs compiled from The Hindu, The Indian Express and The Assam Tribune. Compiled by Lucent IAS: Best APSC Coaching Centre in Guwahati.
About Lucent IAS– The Best APSC Coaching Centre in Guwahati
Lucent IAS offers both offline and Online APSC CCE Coaching and is recognized for its top-class curriculum, pedagogy and exam-focused study materials. Located in Guwahati, this institution provides best-in-class learning experience and top-class study materials to Civil Service Aspirants targeting UPSC and APSC exams in the Northeast India Region. With 18 successful selection in APSC CCE 2018 Exam, Lucent IAS prides itself as the best APSC Coaching Centre in Assam.
To know more, visit our website: www.lucentias.com
Lucent IAS Office Address: Baruah Mansion,First floor, near Apex Bank, Opposite CPWD office, Bamunimaidam, Guwahati, Assam 781021
Mobile/WhatsApp: +91 70990 06849
Follow us on:
Call/WhatsApp: +91 70990 06849
Join our Telegram Channels: