The best APSC Coaching Centre in Assam- Lucent IAS – presents today's Current Affairs. Sources from important news and articles published in The Hindu, The Indian Express and The Assam Tribune. (Date: 27 August, 2022)
Armed Forces Special Powers Act, 1958 (Prelims/GS2/GS3/GS 5)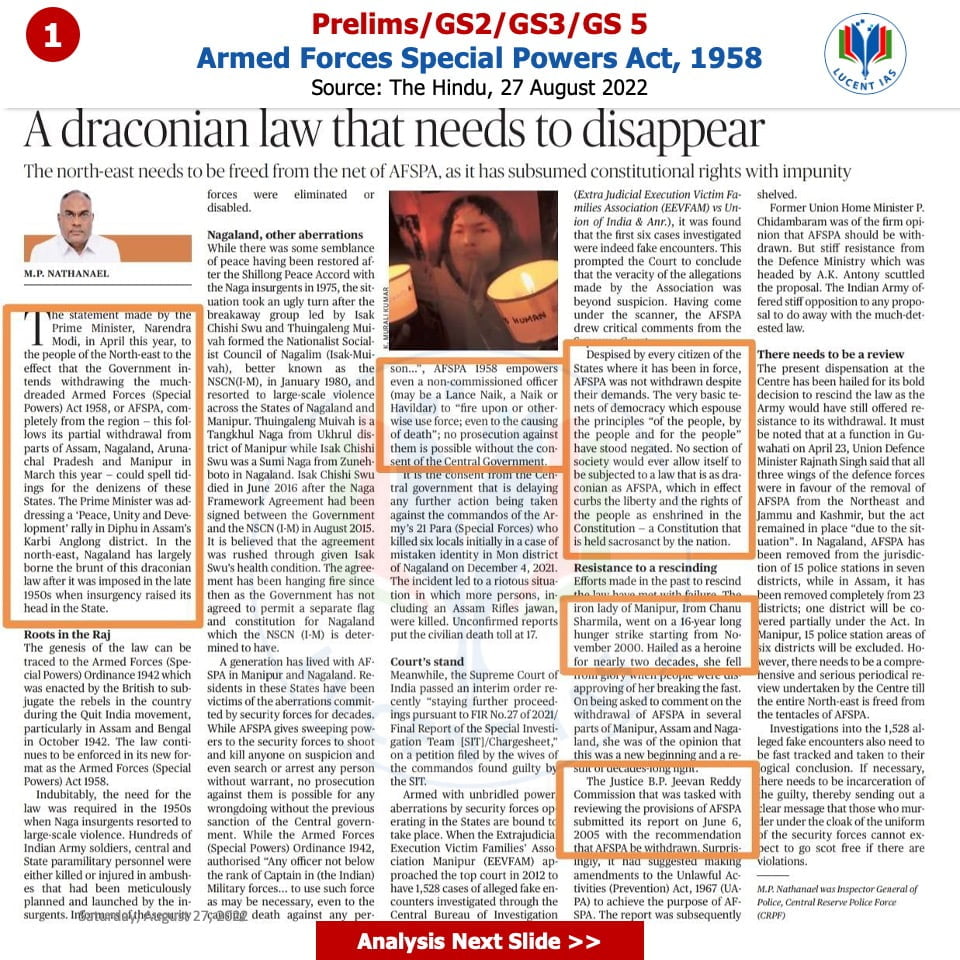 Armed Forces Special Powers Act, 1958
The Armed Forces Special Powers Act grants the armed forces sweeping powers. For Example:

It authorizes them to open fire, even death, on any person who is in contravention of the law or carrying arms and ammunition.
It also provides them with the power to arrest individuals without warrants on the basis of "reasonable suspicion" and to search premises without a warrant.
It can be imposed on a state or parts of a state by the Centre or the Governor of that state when these areas are declared "disturbed" under Section 3.

The Act was amended in 1972, and the powers to declare an area "disturbed" were given concurrently to the Central Government as well as the States.
The Union Home Ministry currently makes periodic "disturbed area" notifications to extend AFSPA only to Nagaland and Arunachal Pradesh.
The State governments issue the notification for Manipur and Assam.
Tripura revoked the Act in 2015,  AFSPA in Meghalaya repealed by the MHA on April 1, 2018.
The State governments issue the notification for Manipur and Assam.
Tripura revoked the Act in 2015,  AFSPA in Meghalaya repealed by the MHA on April 1, 2018
Arguments in the favour of AFSPA
National Security, first and foremost is the concern. This Act is needed to counter the threats. 
The presence of such strict law, the armed forces can keep a check on the rising insurgency and the insurgent sentiments. 
To help armed forces establish the rule of law in disturbed areas. 
To ensure proper and safe functioning of state machinery in disturbed areas. 
Arguments against the AFSPA
Misuse of powers given to armed forces, used as a tool of oppression and brutality. 
Fake encounters, rapes and sexual harrasment of the common people. 
AFSPA,violates human rights.
ASFPA has resemblances with Rowlatt Act of the British time as any suspicious person can be arrested on the basis of doubt.
India's Soft Power Diplomacy (Prelims & GS2)
Statues of Freedom Fighters  in Northeast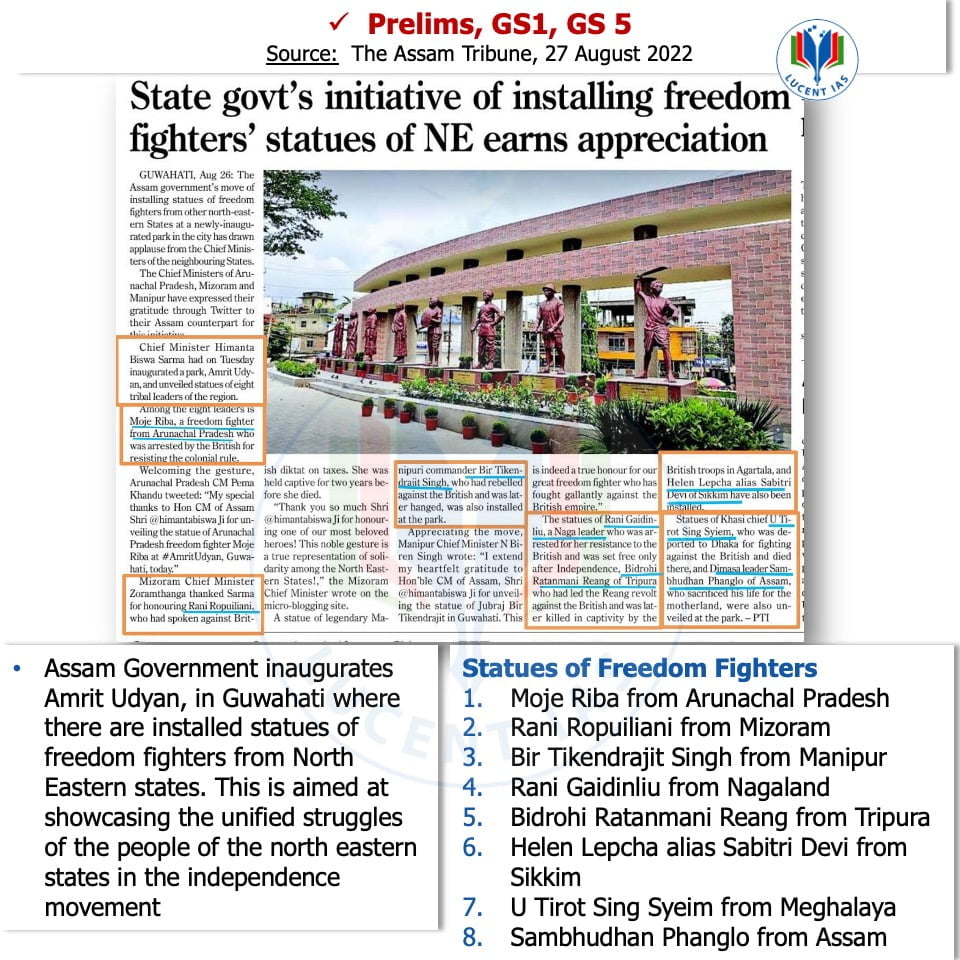 Disaster Management: Extreme Rains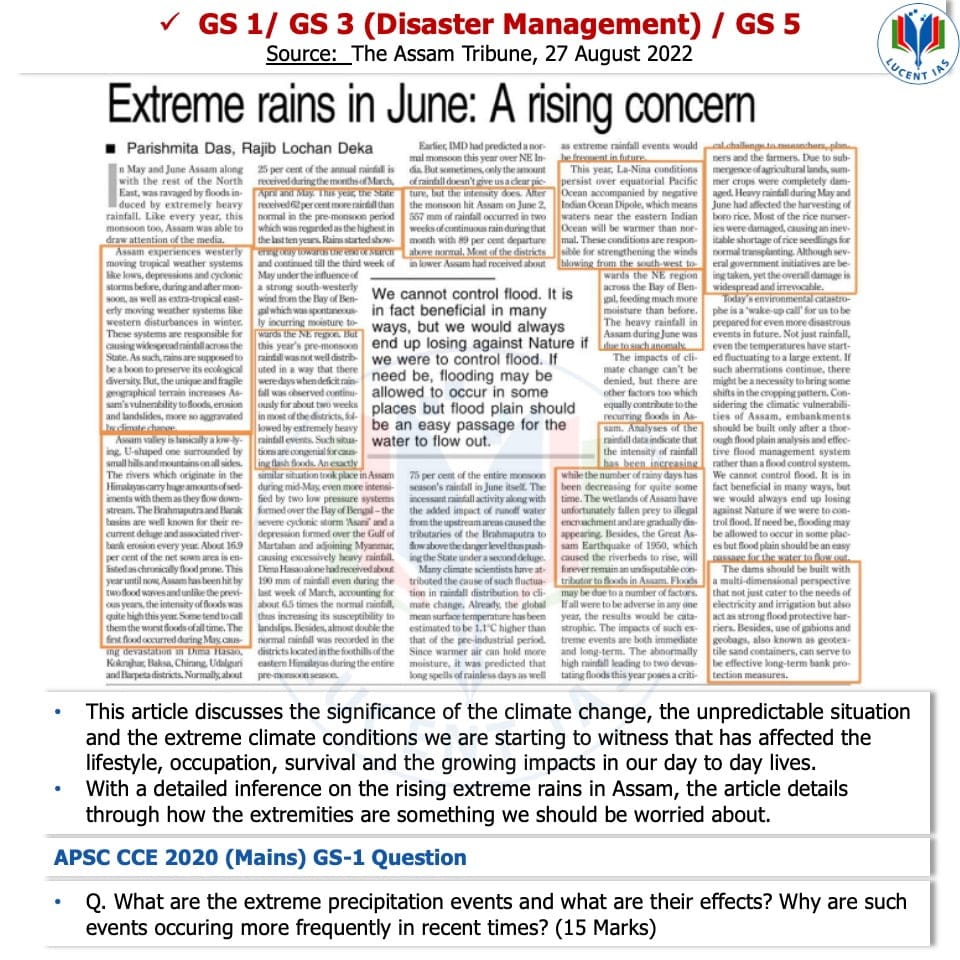 Prelims/GS-3: Green GDP and its significance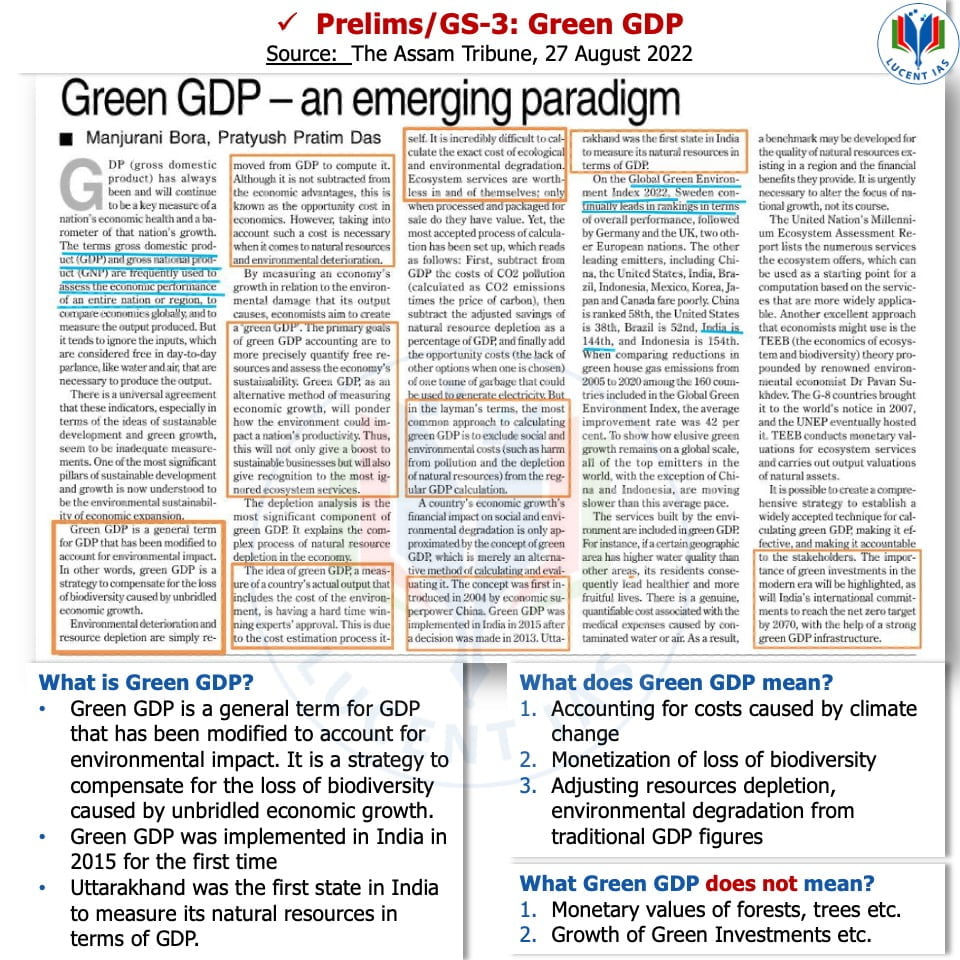 Insights: Government's move to connect Orang National Park and Kaziranga National Park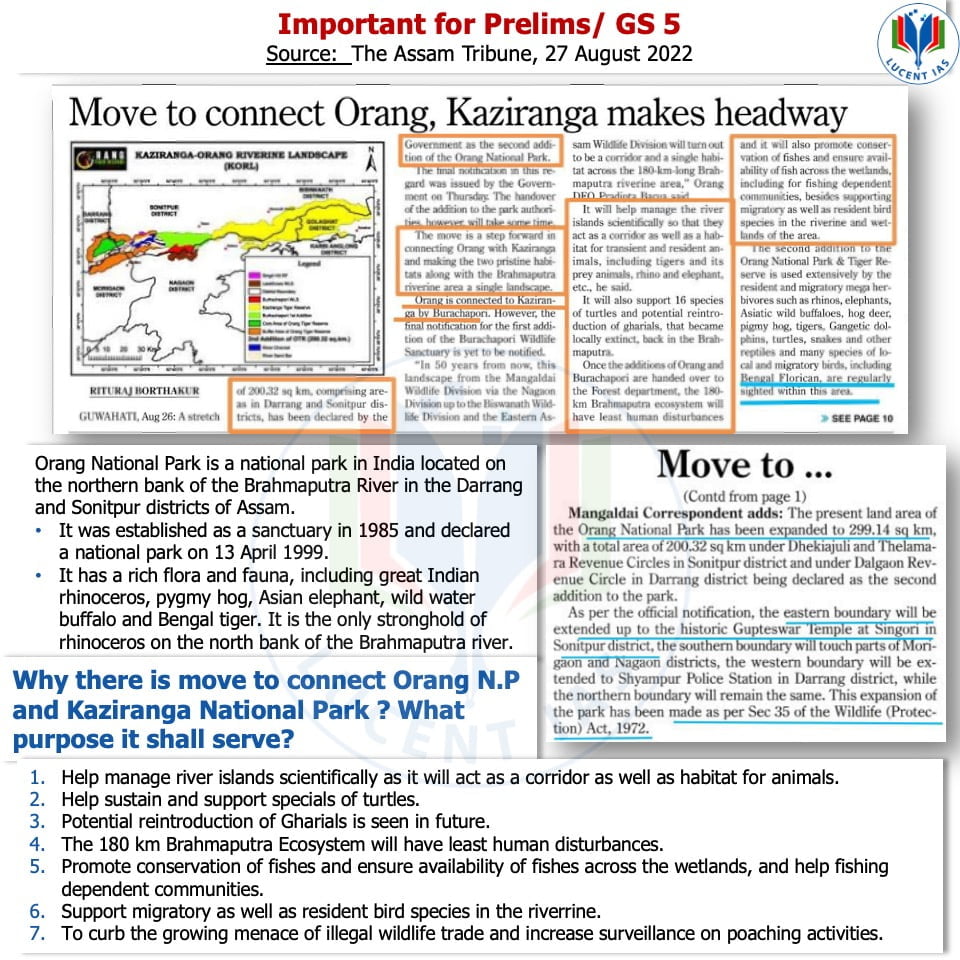 Today's MCQ for APSC CCE Prelims (Solved)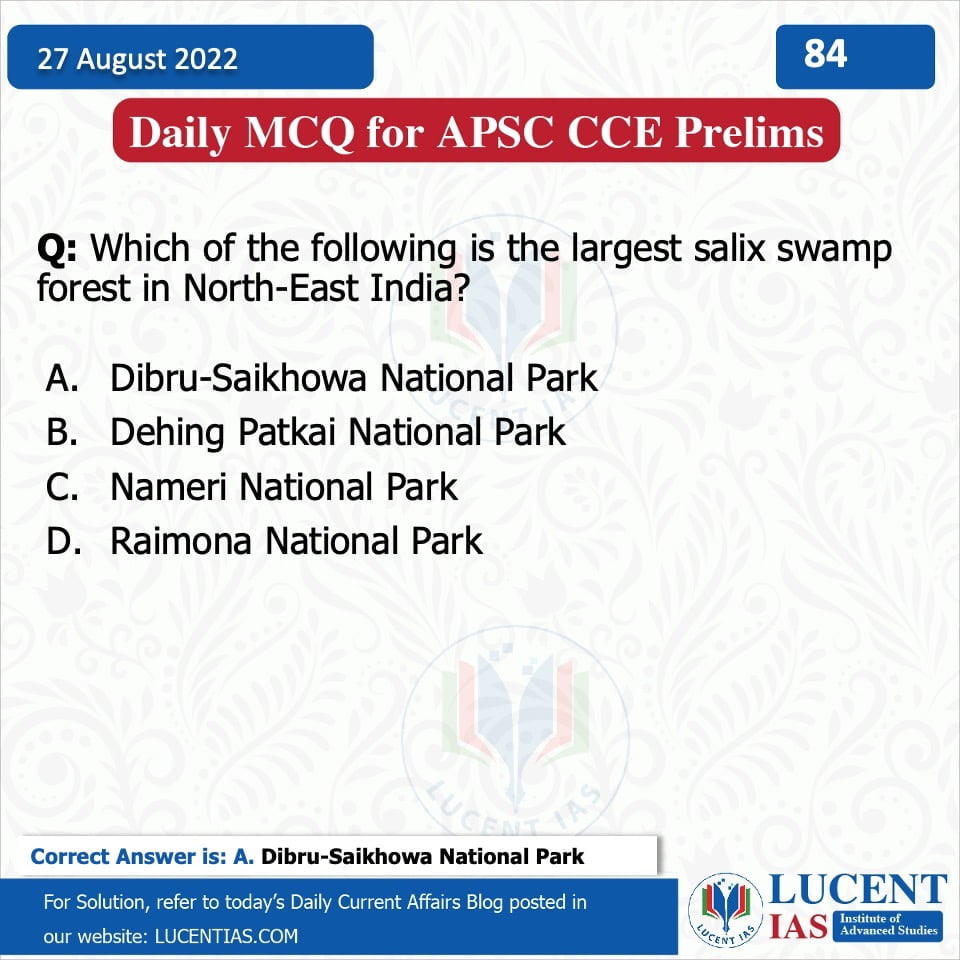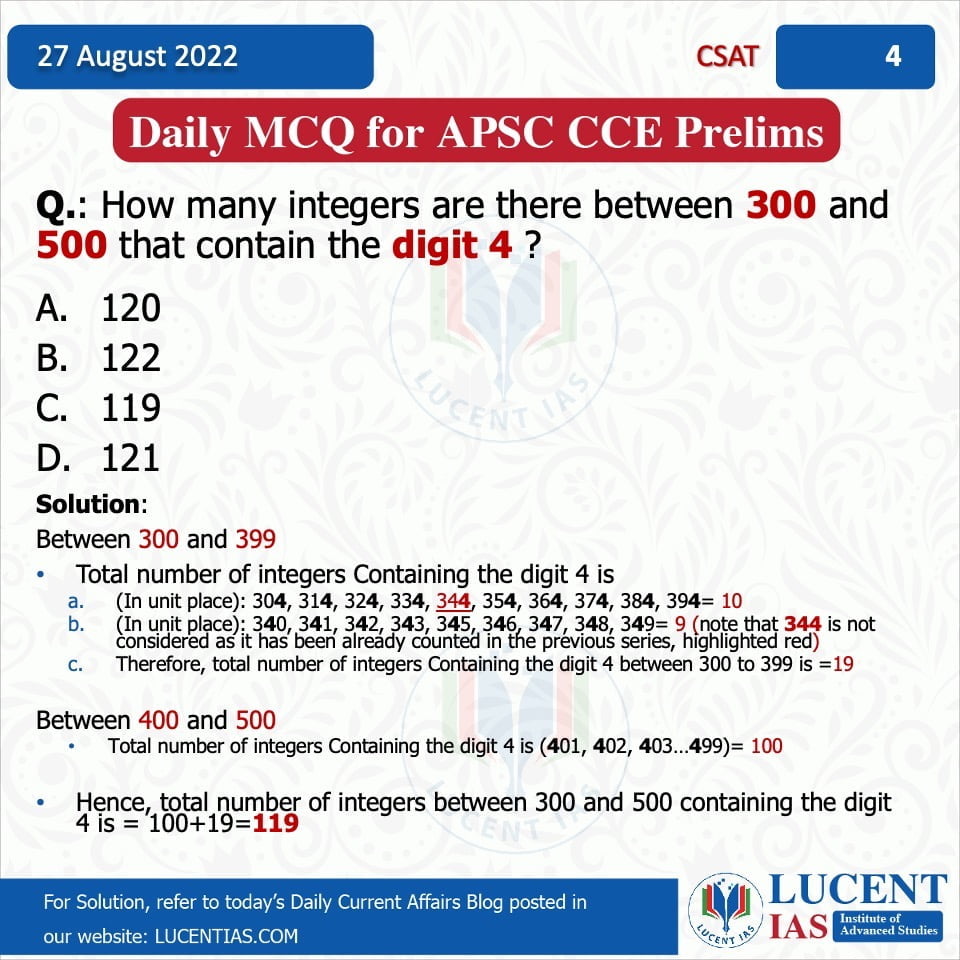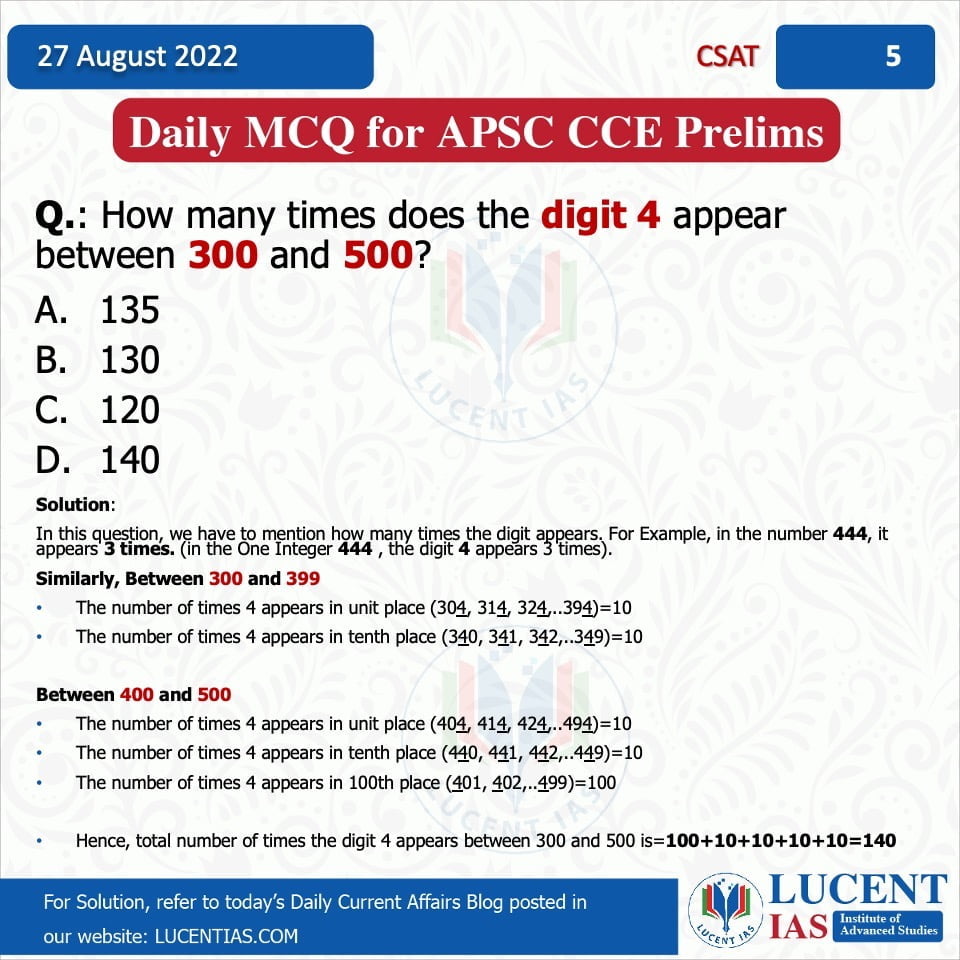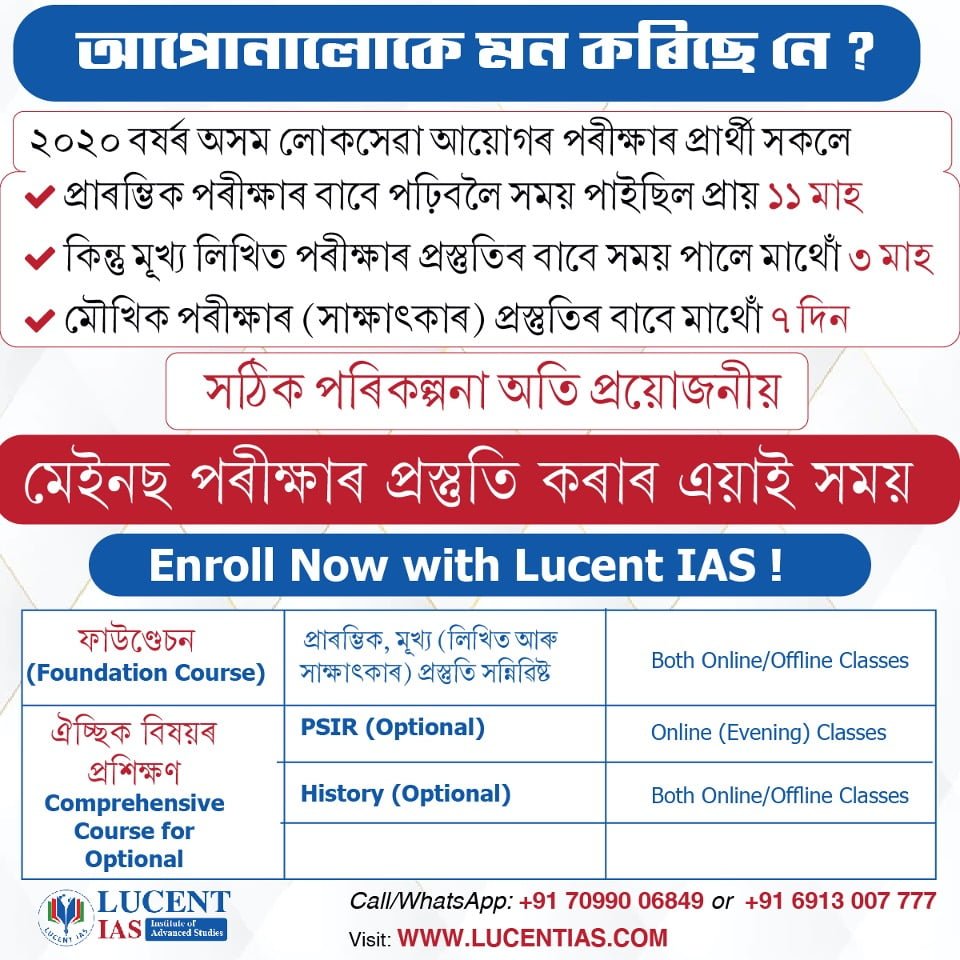 Download the full PDF of the daily Current Affairs compiled from The Hindu, The Indian Express and The Assam Tribune. Compiled by Lucent IAS: Best APSC Coaching Centre in Assam
About Lucent IAS– The Best APSC Coaching Centre in Assam
Lucent IAS offers both offline and Online APSC CCE Coaching and is recognized for its top-class curriculum, pedagogy and exam-focused study materials. Located in Guwahati, this institution provides best-in-class learning experience and top-class study materials to Civil Service Aspirants targeting UPSC and APSC exams in the Northeast India Region. With 18 successful selection in APSC CCE 2018 Exam, Lucent IAS prides itself as the best APSC Coaching Centre in Assam.
To know more, visit our website: www.lucentias.com
Lucent IAS Office Address: Baruah Mansion,First floor, near Apex Bank, Opposite CPWD office, Bamunimaidam, Guwahati, Assam 781021
Mobile/WhatsApp: +91 70990 06849
Follow us on:
Call/WhatsApp: +91 70990 06849
Join our Telegram Channels: