Download today's Current Affairs Compilation and Analysis of The Hindu, The Indian Express and The Assam Tribune, compiled by Lucent IAS: The Best APSC Coaching Institute in Assam. Very Important for UPSC CSE and APSC CCE Examinations (26 & 27 June 2022)
Topic: Flood in Assam, Source: The Hindu (26 June, 2022), (Important for GS-3, GS-5 Paper)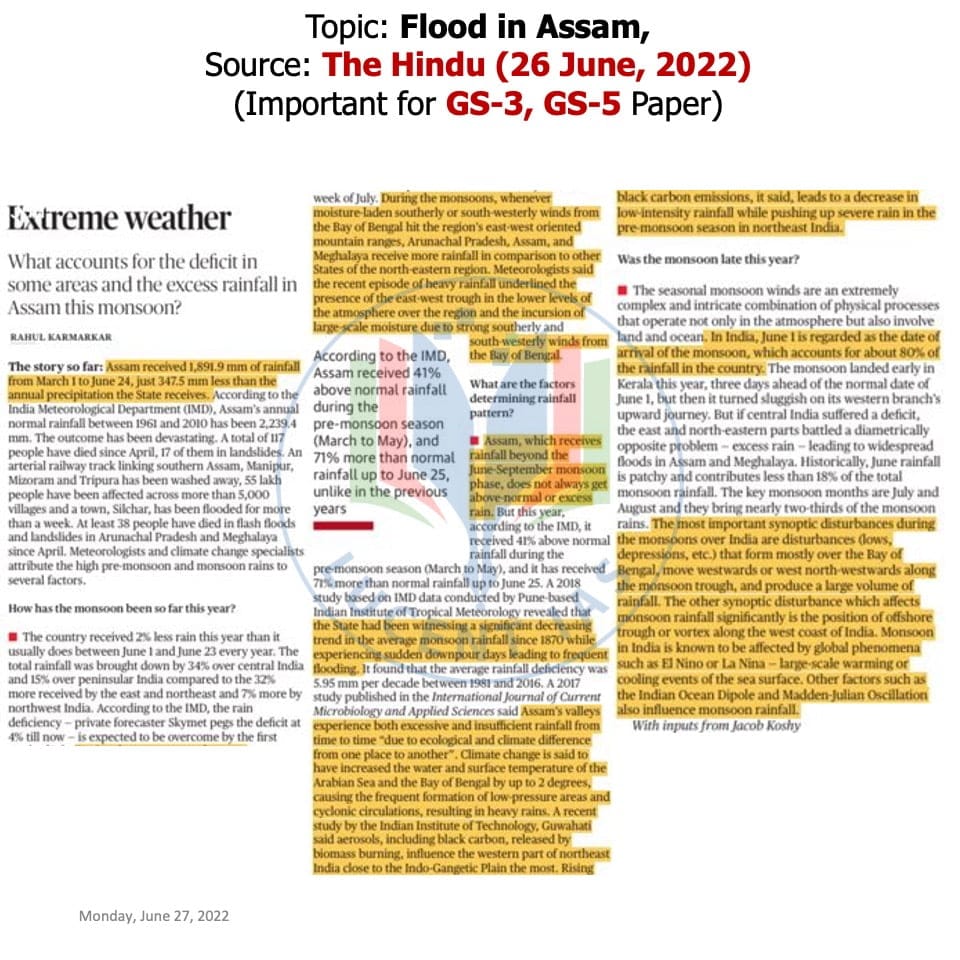 Factors of flood in Assam :
Brahmaputra river : The high level of sedimentation of the Brahmaputra, which may raise the level of the river and reduce its water carrying capacity. By the time the river enters Assam, the slope flattens from 2.82 m/km to about 0.1m/km. This flattening of the slope causes a sudden drop in velocity and the river deposits huge quantities of sediment and other debris collected from hilly terrains on the riverbed, raising its level.
Monsoon: During the monsoons, whenever moisture-laden southerly or south-westerly winds from the Bay of Bengal hit the Eastern region's east-west oriented mountain ranges, Arunachal Pradesh, Assam, and Meghalaya receive more rainfall in comparison to other States of the north-eastern region. The recent episode of heavy rainfall underlined the presence of the east-west trough in the lower levels of the atmosphere over the region and the incursion of large-scale moisture due to strong southerly and south-westerly winds from the Bay of Bengal.
Seismically active zone: An increase in construction activities in the recent area has resulted in frequent landslides. Earthquakes and landslides also push sediments and debris into rivers, which further raises the riverbed and increases the risk of floods.  
Riverbank erosion : As sedimented rivers move through the state along with their tributaries, they take with them soil and sediment from banks. Soil erodes and rivers expand as it gets more area, and this results in flooding. The width of Brahmaputra has increased up to 15km due to bank erosion at some places in Assam. Nearly 8,000 hectares of land is lost every year on average. 
Human intervention : Construction of embankments since 1960s has proved to be a failed method to control flood. Every year river water breaches these barriers and inundates houses and land. Embankments led to encroachment of riverbanks with an increasing number of people building houses and setting up establishments close to the river.
Other man-made factors like deforestation, hill cutting, encroachments and destruction of wetlands have also worsened the flood situation. A population boom in the State has put more pressure on the State's ecology. The population density of Brahmaputra valley has increased from 9-29 people per sq. km. in 1940-41 to 398 per sq. km in the plain areas of Assam (2011 census)
Climate change : Due to climate change, extreme rainfall events will increase by 38 per cent. Heavy rainfall replacing continuous low or normal rainfall during monsoon combined with the melting of glaciers due to rising temperatures will mean that rivers from the Himalayas will be carrying more water and sediment even before they enter Assam where smaller rivers are swelled up due to incessant rainfall. This increases the possibility of frequent flash floods in low-lying areas.
Way Forward
A flood hazard atlas for Assam proposes non-structural measures to mitigate the impact of floods like flood forecasting and warning, flood profiling, and regulation of reservoirs.
Experts suggest developing early flood warning and dissemination system so that early preparation can be undertaken and residents are alerted on time.
The region needs more institutionalized and technologically advanced systems to allow for credible and fast warning systems.
Wetlands and local water bodies should be revived in Assam to improve the drainage system, which can act as an exit for excess water and prevent waterlogging.
Clearing human encroachments in the Brahmaputra flood plains. Embankments should be regularly checked for breaches and systems put in place for maintenance.
Summary of The Hindu Web exclusive article 'Assam's Annual Tryst with Devastating Floods' published on 25.06.2022.
Kerala: First State to have a region-specific Red List of Birds, Source: The Hindu, 26 June, 2022 (Important for GS3 Paper and Prelims)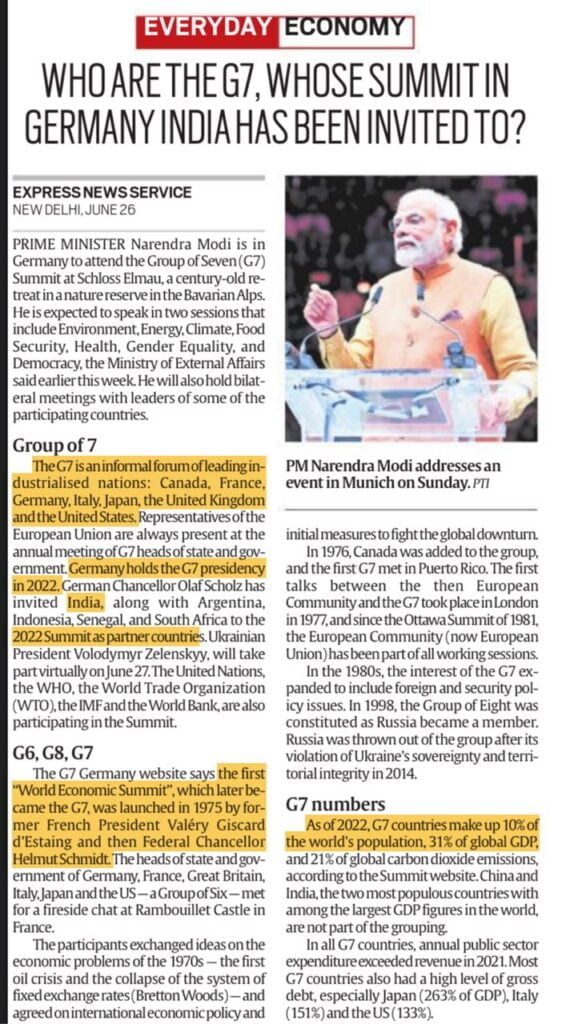 Topic: G7 Summit, Source: The Hindu, 27 June 2022, (Important for Prelims, GS-2 Paper, and PSIR Optional)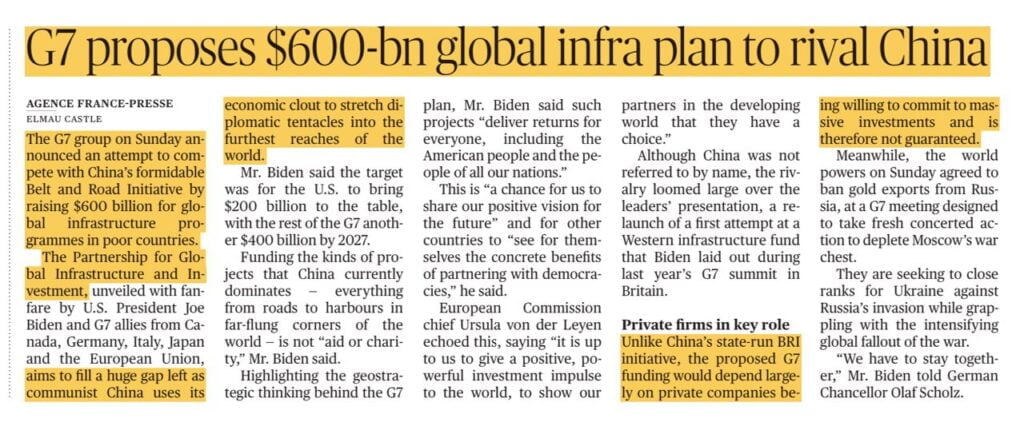 G-7 represents IMF most advanced economies. These countries are united by a belief in liberal democracy and pluralism.
It's an informal body and does not have permanent headquarter.
At 47th G-7 Summit, 2021 G-7 declared Global Minimum Corporate Tax rate that was fixed at 15%. 
Carbis Bay Declaration : It is aimed at preventing future pandemics. The Partnership for Global Infrastructure and Investment is also known as Build Back Better for the World project
Flood in Assam: Insights & Measures, Source: The Assam Tribune, 26 June, 2022, (Important for Disaster Management (GS-3), GS-5 Paper)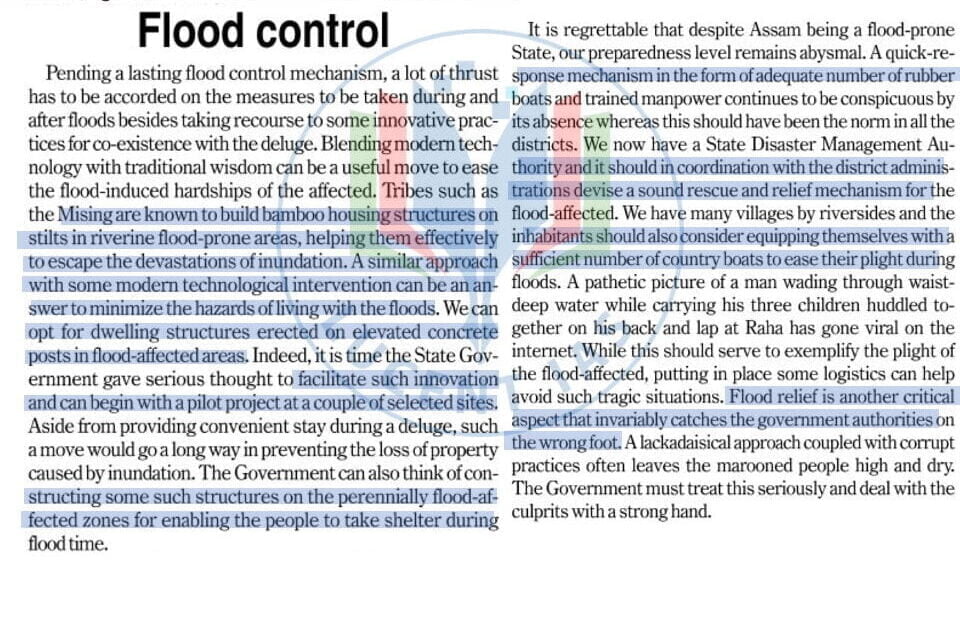 Urban Floods in Guwahati: Factors & Possible Solutions, Source: The Assam Tribune, (Important for Disaster Management (GS-3), GS-5 Paper)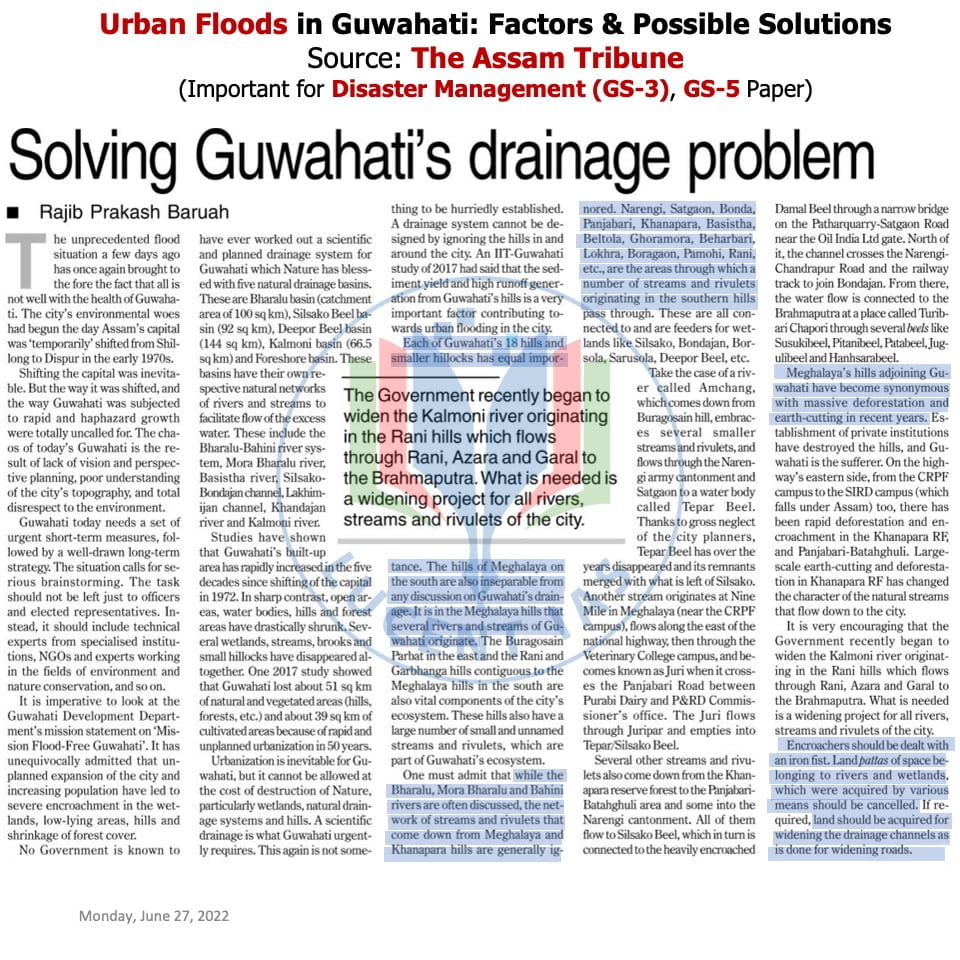 Climate Change, Source: The Assam Tribune, (Important for Environment, Biodiversity (GS-3) Paper)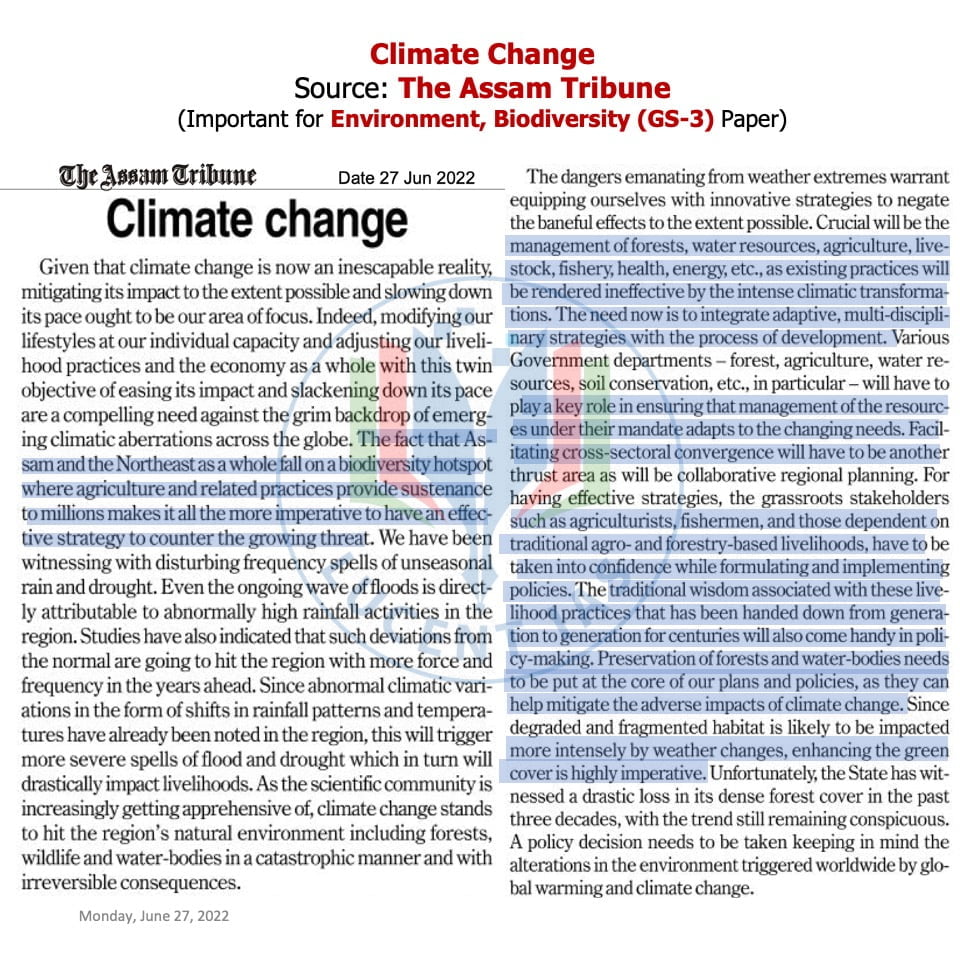 NIRYAT Portal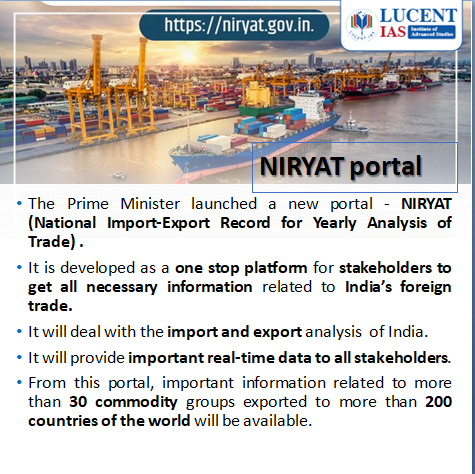 Today's MCQ for APSC CCE Prelims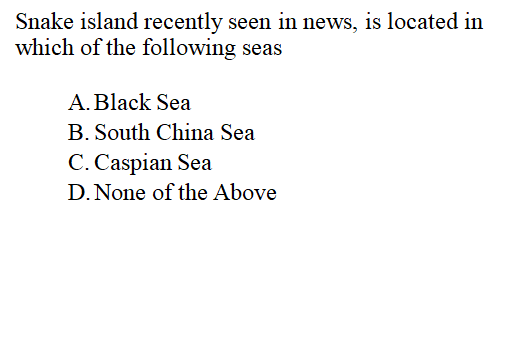 Correct Answer: A
The Zmiinyi Island, also known as Snake Island, is located in the Black Sea. Right from the start of Russia's invasion of Ukraine, Snake Island has become extremely crucial for both the countries. This unremarkable, rocky outcrop in the Black Sea was seized by Russia and has become a battleground of strategic value. Recently, Ukraine has said it has caused "significant losses" to the Russian military in airstrikes on this island. For more information, read the Explained articles of IE:
https://indianexpress.com/article/explained/everyday-explainers/explained-importance-snake-island-black-sea-ukraine-bombed-russia-7985298/
Indian Prehistory Concepts | Optional History Demo Class by Mukesh Sir
Download the full PDF of the daily Current Affairs compiled from The Hindu, The Indian Express and The Assam Tribune. Compiled by Lucent IAS: The Best APSC Coaching Institute in Assam.
About Lucent IAS– The Best APSC Coaching Institute in Assam
Lucent IAS is a leading Civil Service Coaching Institutions in Assam. Located in Guwahati, this institution provides best-in-class learning experience and top-class study materials to Civil Service Aspirants targeting UPSC and APSC exams in the Northeast India Region.
To know more, visit our website: www.lucentias.com
Lucent IAS Office Address: Baruah Mansion,First floor, near Apex Bank, Opposite CPWD office, Bamunimaidam, Guwahati, Assam 781021
Mobile/WhatsApp: +91 70990 06849
Follow us on:
Call/WhatsApp: +91 70990 06849
Join our Telegram Channels: