Download today's Current Affairs Compilation and Analysis of The Hindu, The Indian Express and The Assam Tribune, compiled by Lucent IAS: The Best APSC Coaching Institute in Assam. Very Important for UPSC CSE and APSC CCE Examinations (15 June 2022)
Artificial Intelligence: Important Facts for Science and Technology Part of GS Paper:3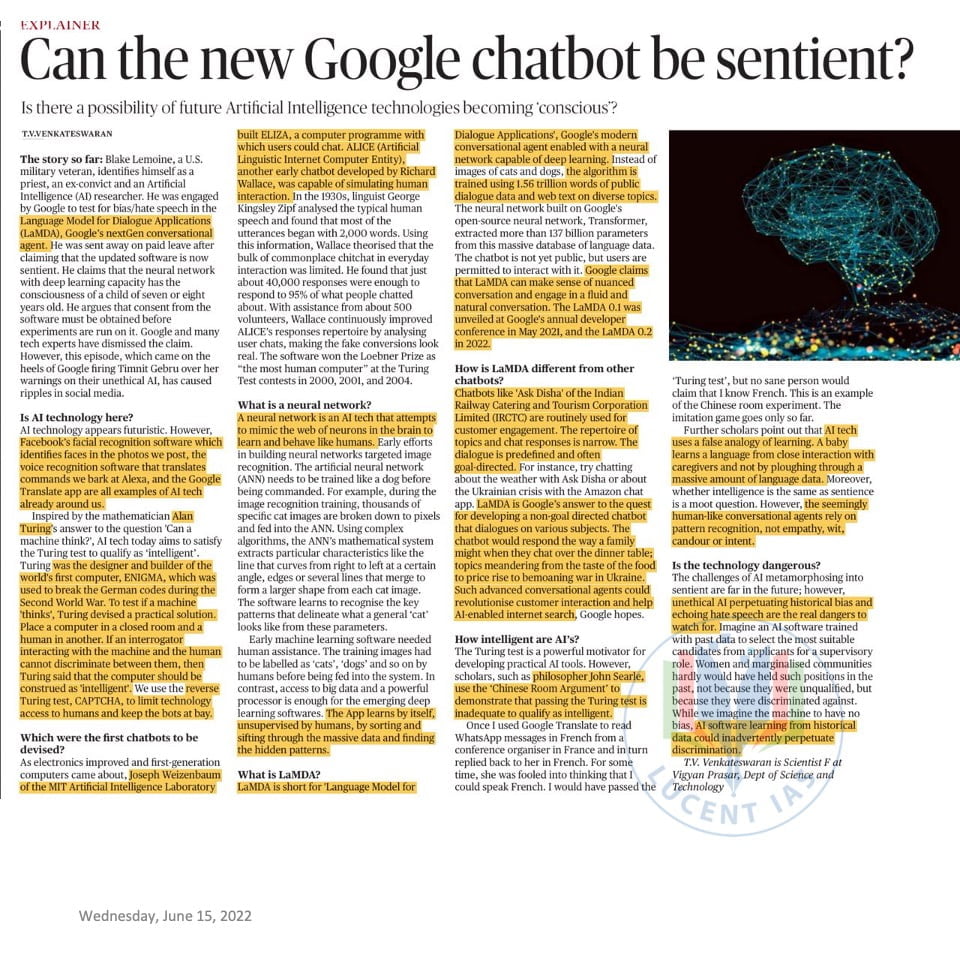 Advantages of AI : It's the backbone of Fourth Industrial Revolution. It could contribute more than $15 trillion to the world economy by 2030, adding 14% to global GDP.
Disadvantages of AI: Surveillance by government, inscrutable "black box" algorithms, unethical use of data and potential job displacement.
Global AI Action Alliance:
Launched by World Economic Forum in 2021.
It's a multi-stakeholder (companies, governments, academics and civil society groups) platform.
Objectives: to accelerate the adoption of inclusive, transparent, and trusted artificial intelligence tools globally and in industry sectors, Create a feedback loop of real-time learning and scaling across key sectors and challenge areas, and Catalyse and incubate new partnerships and initiatives to address urgent gaps and needs.
(UPSC Prelims question 2020)
With the present state of development, Artificial Intelligence can effectively do which of the following?
Bring down electricity consumption in industrial units
Create meaningful short stories and songs
Disease diagnosis
Text-to-Speech Conversion
Wireless transmission of electrical energy
Select the correct answer using the code given below:
(a) 1, 2, 3 and 5 only
(b) 1, 3 and 4 only
(c) 2, 4 and 5 only
(d) 1, 2, 3, 4 and 5
'Agnipath Scheme': The Important Facts and Figures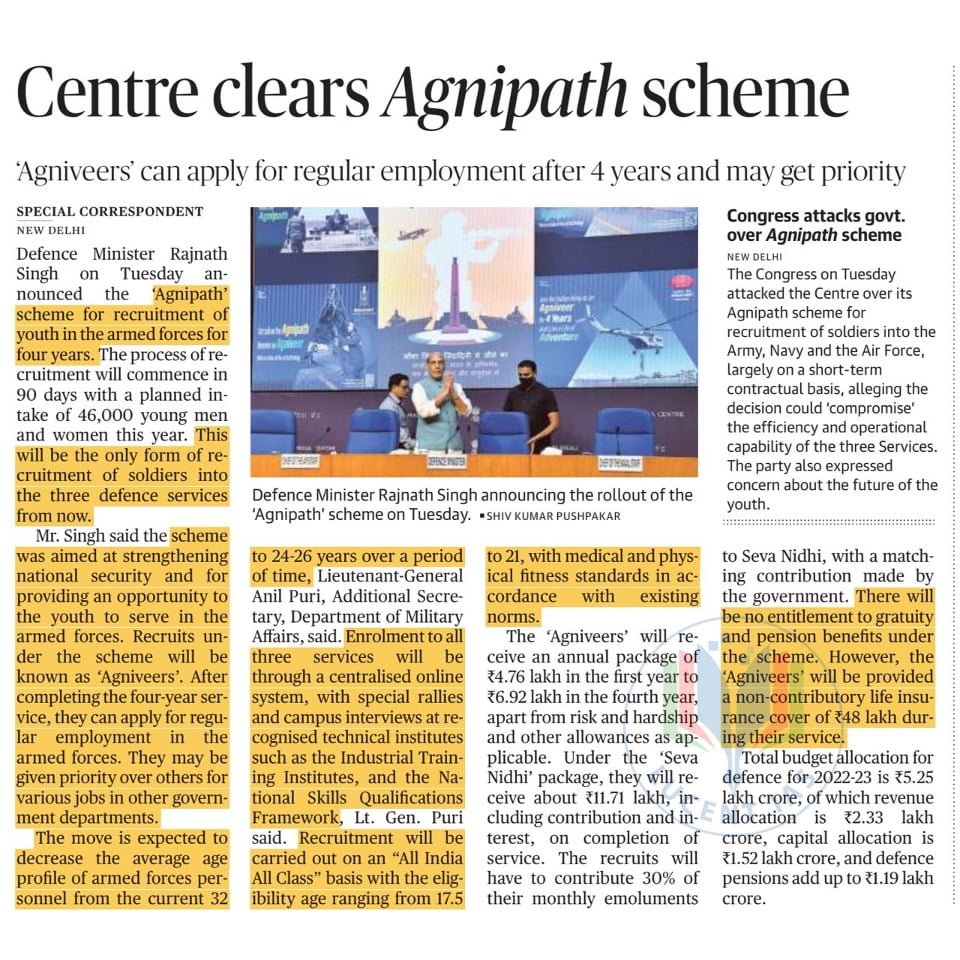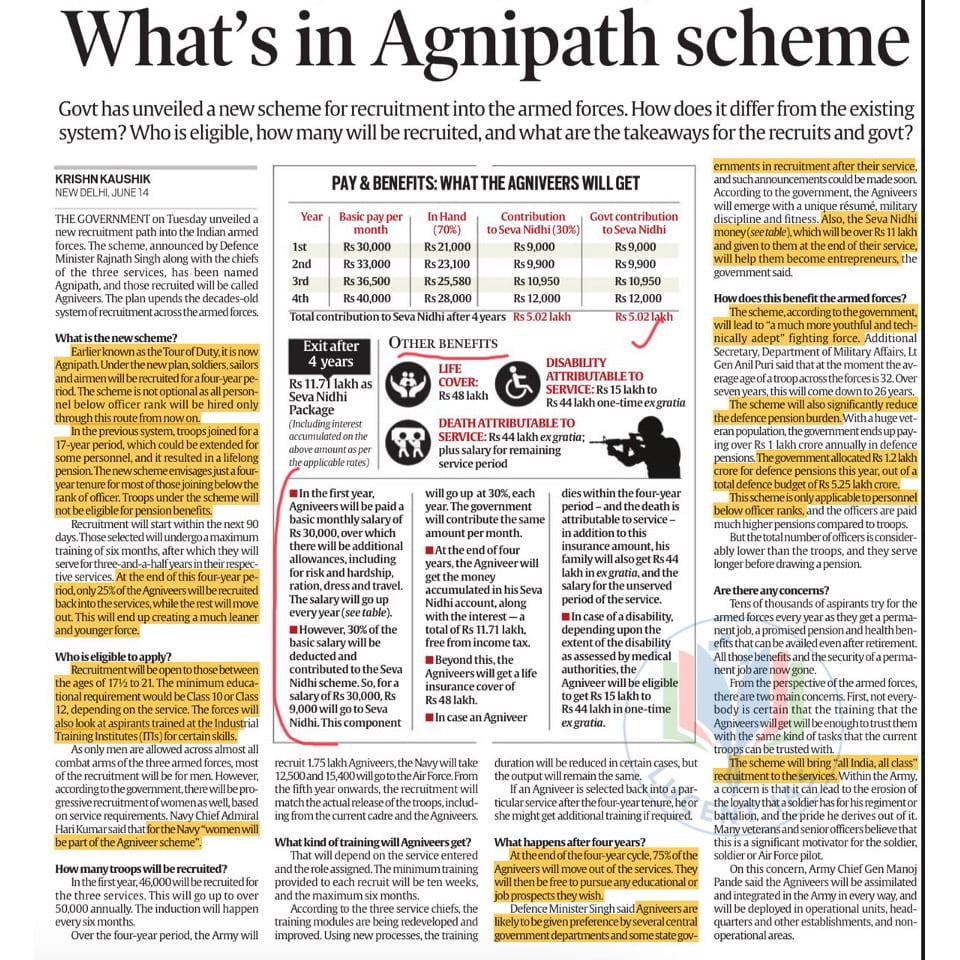 Agnipath Scheme Benefits:
It will reduce revenue expenditure of the government currently spent on salaries and pension bills of Soldiers (1/3rd of total defense budget spent on salaries and bills.)
Government will be able to spend more on modernization of weapons and arsenals as well as be ready for contact-less warfare if digital era.
A younger, highly motivated armed forces can better perform in high altitude areas (China and Pakistan in Northern sector)This reform is in line with international best practices – e.g. Israeli army has service of 30 months, US, UK, and France also have shorter duration service
Insights: National Pension Scheme and Old Pension Scheme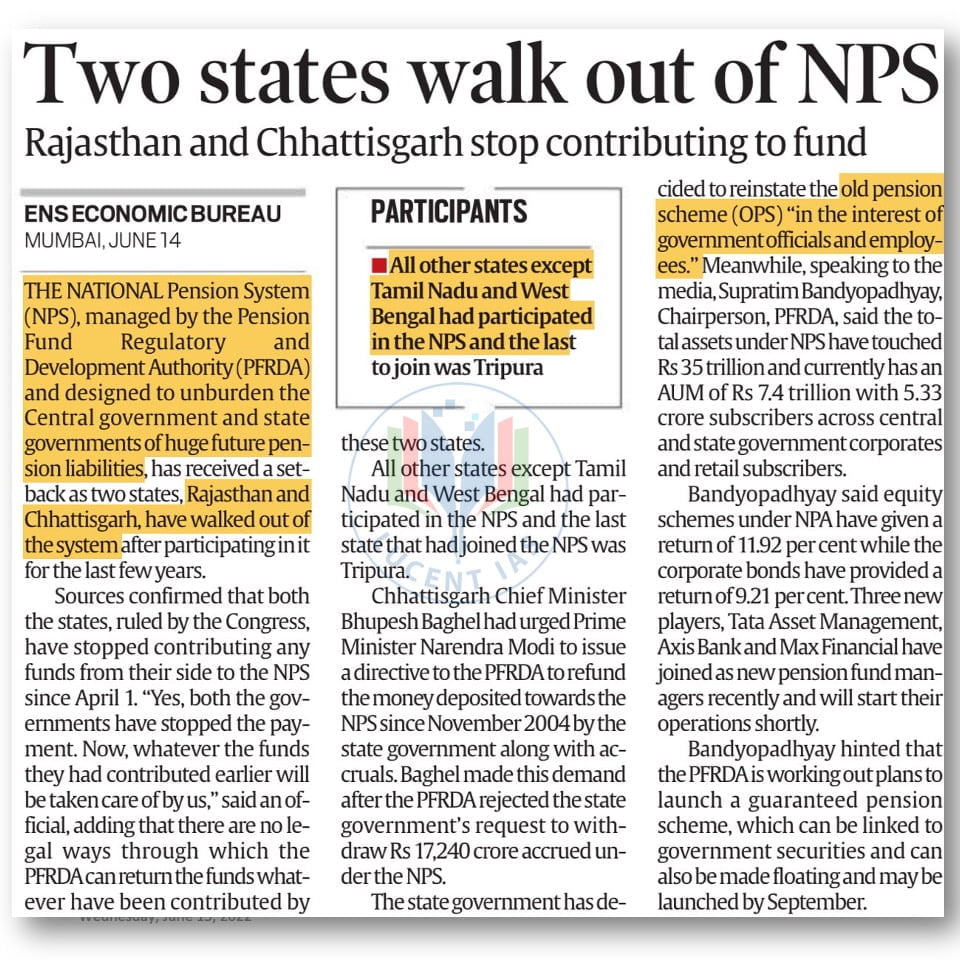 National Pension Scheme
Launched in 2004 by the Government of India.
It is a voluntary retirement savings scheme laid out to allow the subscribers to make a defined contribution towards planned savings.
Here the government and employees contribute an equal portion towards the pension fund.
NPS invests employees' contributions over the length of their careers in market securities such as equities. However, there is no assurance of returns from this investment.
The structure of NPS has two types of accounts- Tier 1 and Tier 2. While Tier 1 does not allow subscribers premature withdrawal, Tier 2 can be used for withdrawals before maturity. Minimum Rs.1000 of contribution to be made for both accounts.
At the time of retirement of the total the pension fund 60 per cent tax-free on redemption while the rest needs to be invested in an annuity which is fully taxable.
The minimum payment to retired employees as pension is Rs 3,500.
Old Pension Scheme
This was the pension system before 2004.
Under this subscribers are assured of a monthly pension after retirement and income from OPS is not taxed.
Under this 50 per cent of the last drawn salary is provided as the pension.
This system was discontinued due to pension debt sustainability, an ageing population, an explicit burden on future generations and the incentive for early retirement in OPS.
There is no requirement of mandatory investment of a portion of pension fund under this system unlike in NPS (40%)
Currently West Bengal, Tamil Nadu, Rajasthan, and Chhattisgarh state governments follow this model.
Latest Labour Force Survey and current state of Unemployment in India
National Statistical Office under Ministry of Statistics and Programme Implementation was created in 2019 by merging National Sample Survey Office (NSSO) and Central Statistics Office (CSO). Surveys by NSO are:
Index of Industrial Production (monthly)
Annual Survey of Industries
All India Economic Censuses
Periodic Labour Force Survey
About Lucent IAS:
Lucent IAS is a leading Civil Service Coaching Institutions in Assam. Located in Guwahati, this institution provides best-in-class learning experience and top-class study materials to Civil Service Aspirants targeting UPSC and APSC exams in the Northeast India Region.
To know more, visit our website: www.lucentias.com
Lucent IAS Office Address: Baruah Mansion,First floor, near Apex Bank, Opposite CPWD office, Bamunimaidam, Guwahati, Assam 781021
Mobile/WhatsApp: +91 70990 06849
Follow us on:
Call/WhatsApp: +91 70990 06849