Download The Assam Tribune Analysis and Current Affairs Compilation from The Hindu and The Indian Express. Important for APSC and UPSC Aspirant. (17 May 2022)
'𝐒𝐡𝐢𝐯𝐥𝐢𝐧𝐠' 𝐟𝐨𝐮𝐧𝐝 𝐢𝐧 𝐆𝐲𝐚𝐧𝐯𝐚𝐩𝐢 𝐌𝐨𝐬𝐪𝐮𝐞 𝐂𝐨𝐦𝐩𝐥𝐞𝐱: 𝐓𝐡𝐞 𝐎𝐧𝐠𝐨𝐢𝐧𝐠 𝐃𝐞𝐯𝐞𝐥𝐨𝐩𝐦𝐞𝐧𝐭, 𝐂𝐨𝐮𝐫𝐭 𝐎𝐫𝐝𝐞𝐫𝐬 𝐚𝐧𝐝 𝐏𝐥𝐚𝐜𝐞𝐬 𝐨𝐟 𝐖𝐨𝐫𝐬𝐡𝐢𝐩 𝐀𝐜𝐭 𝟏𝟗𝟐𝟏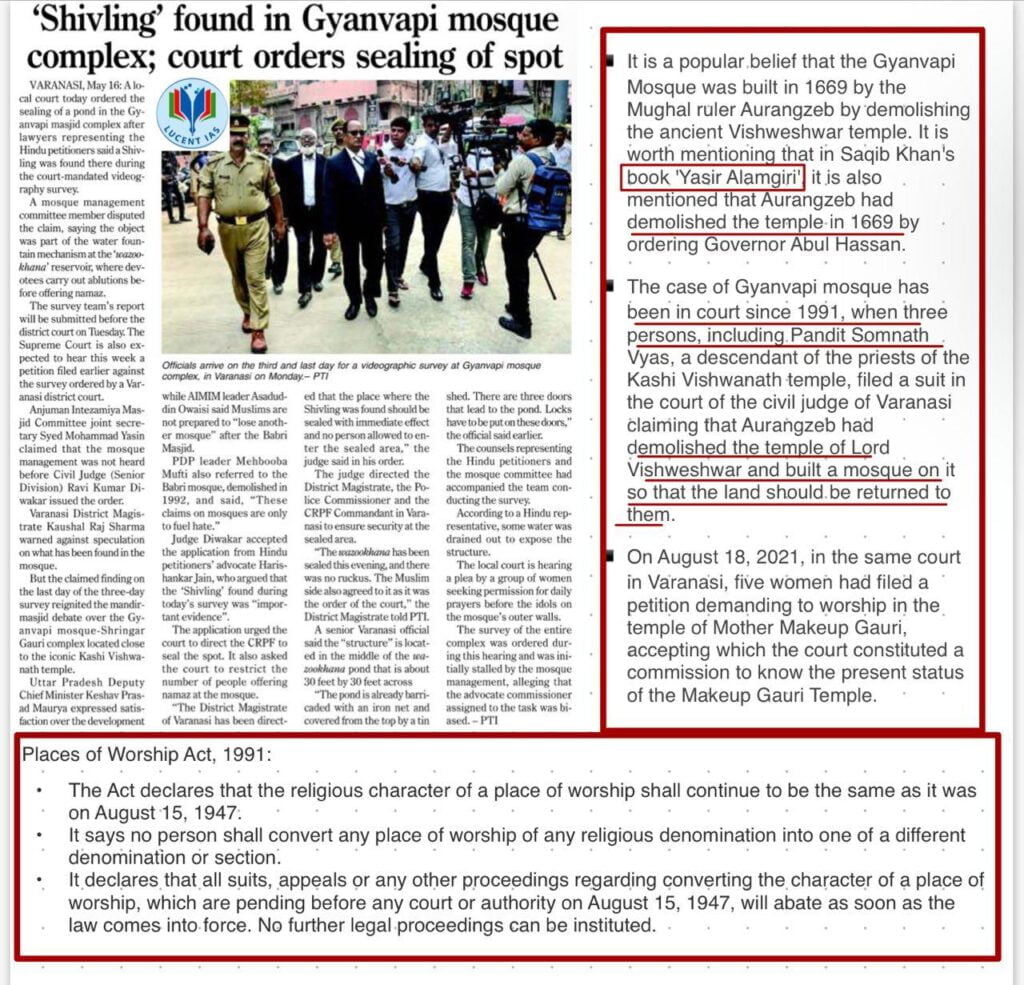 Insights on the Battle of Hangrum and Naga Spiritual leader Rani Gaidinliu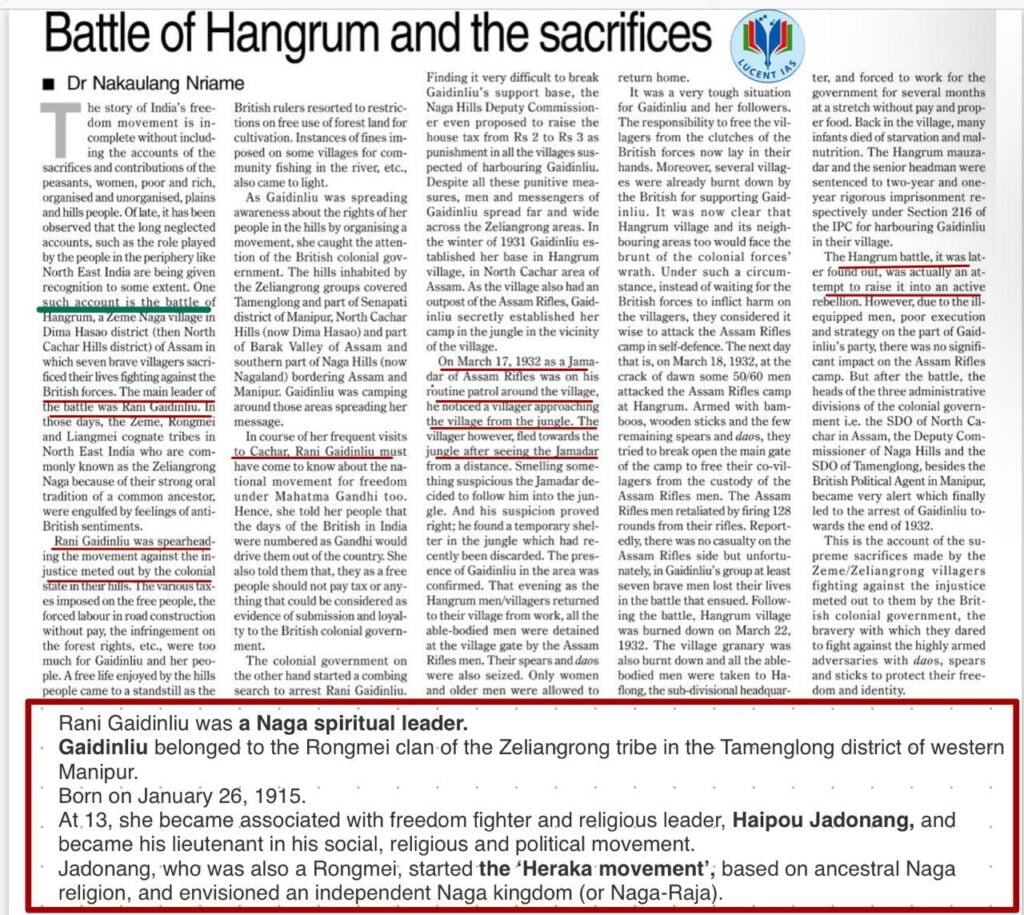 Quick Insights on: Buddhism in India and Archeological findings on various sacred sites of Buddhism in India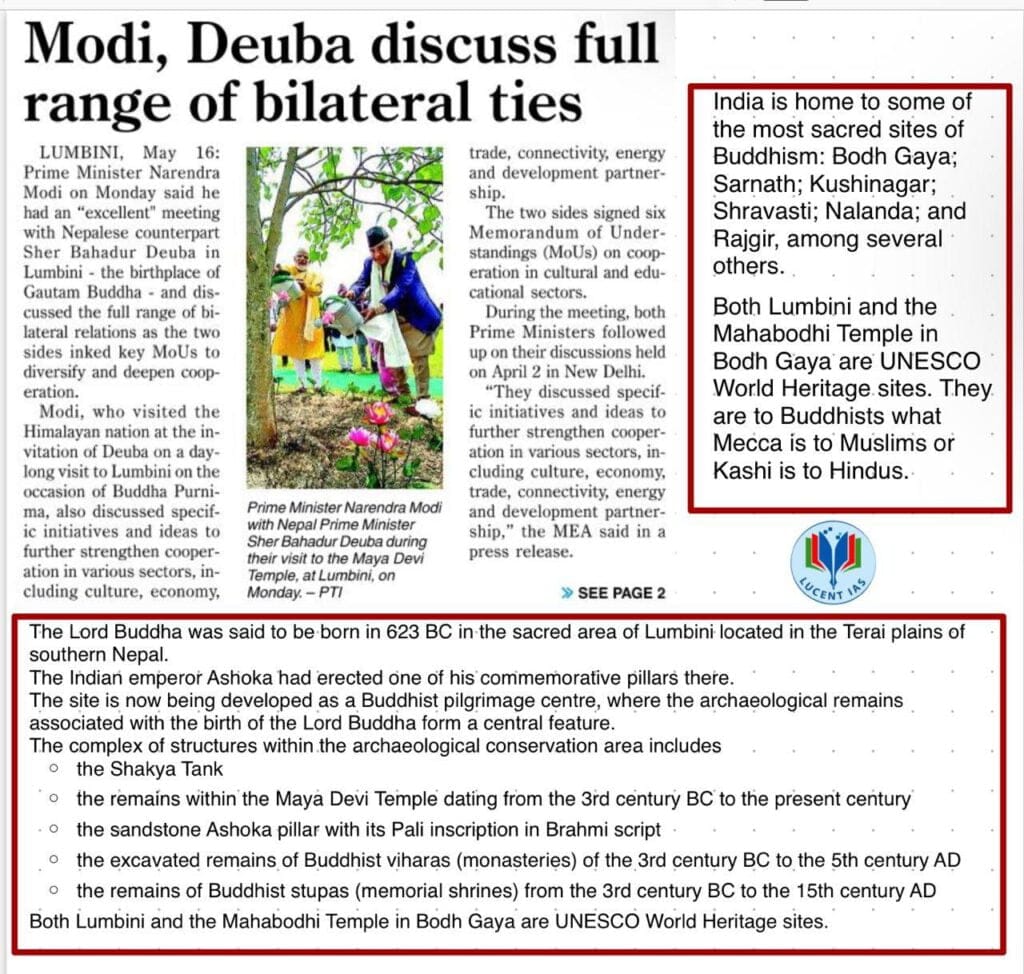 Today's Daily MCQ for APSC Prelims by Lucent IAS (1/2)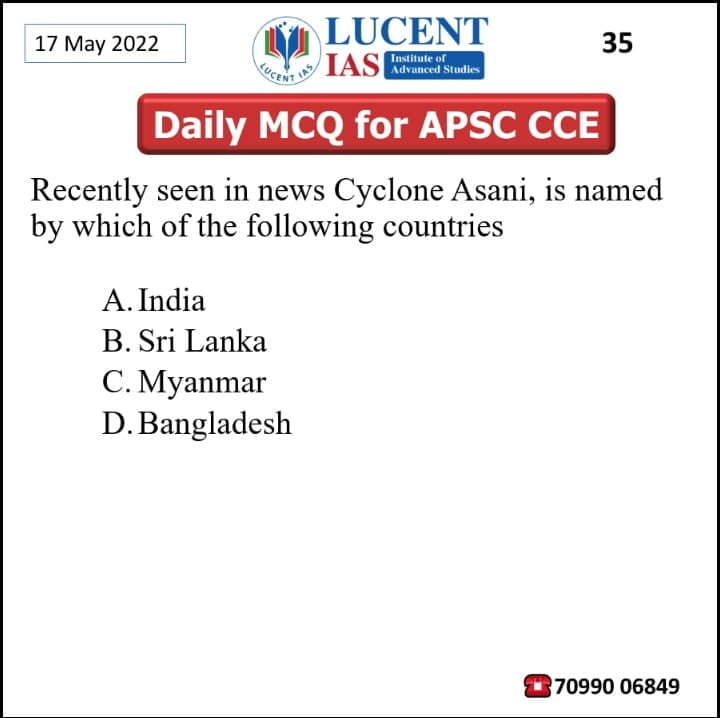 Correct Answer: B. Sri Lanka
The word Asani in Sri Lankan local language, Sinhalese means "wrath". It is the first cyclone of 2022 which originated from the Bay of Bengal. According to the world meteorological organization, the cyclones are named to avoid confusion in the instance where multiple systems are operating in one location.
Today's Daily MCQ for APSC Prelims by Lucent IAS (2/2)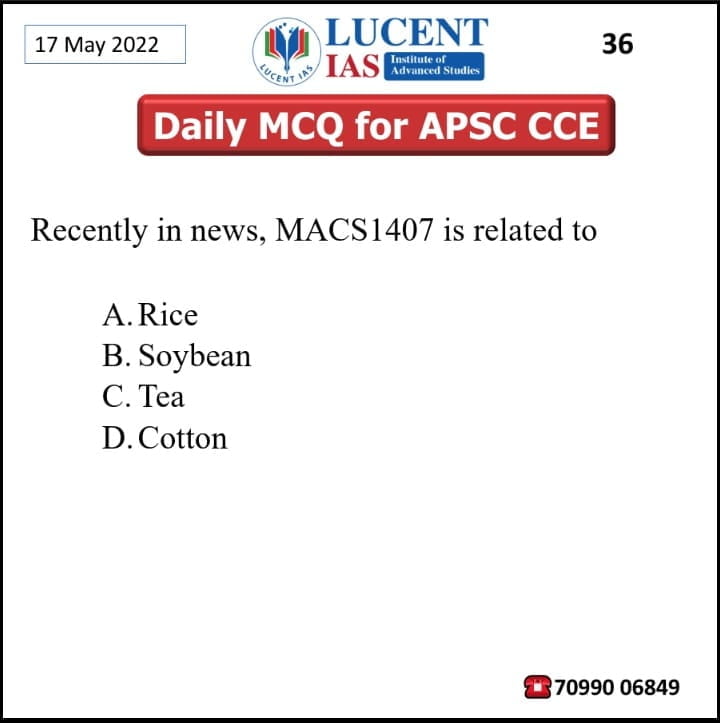 Correct Answer: B. Soybean
MACS1407 is a high-yielding and pest-resistant variety of soybean.  This newly developed variety is suitable for cultivation in the states of Assam, West Bengal, Jharkhand, Chhattisgarh and North-Eastern states and its seeds will be made available to farmers for sowing during the 2022 Kharif season.
Download The Assam Tribune Analysis and Daily Current Affairs by Lucent IAS from this link below
About Lucent IAS:
Lucent IAS is a leading Civil Service Coaching Institutions in Assam. Located in Guwahati, this institution provides best-in-class learning experience and top-class study materials to Civil Service Aspirants targeting UPSC and APSC exams in the Northeast India Region.
To know more, visit our website: www.lucentias.com
Lucent IAS Office Address: Baruah Mansion,First floor, near Apex Bank, Opposite CPWD office, Bamunimaidam, Guwahati, Assam 781021
Mobile/WhatsApp: +91 70990 06849
Follow us on:
Call/WhatsApp: +91 70990 06849