Download The Assam Tribune Compilation and Current Affairs Analysis from The Hindu and The Indian Express. Important for APSC and UPSC Aspirant. (2 May 2022)
Judicial Reforms & Some Initiatives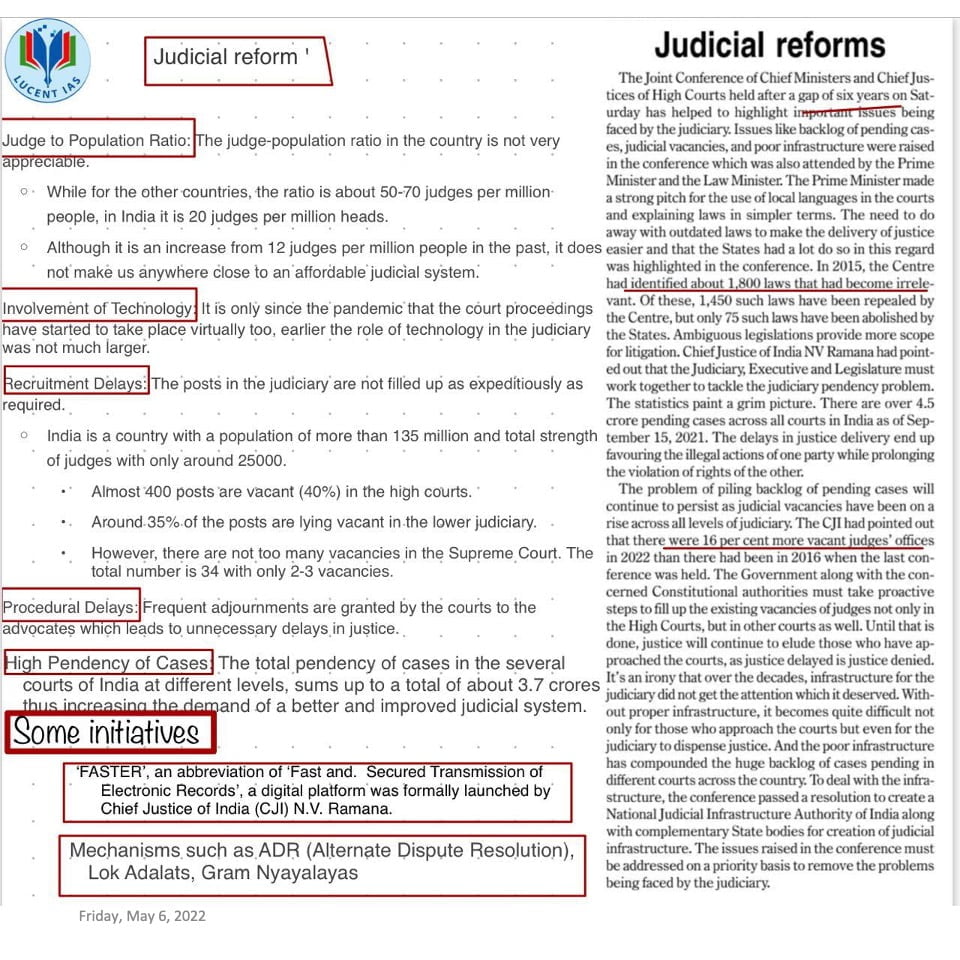 Radicalisation Forms of Radicalism in India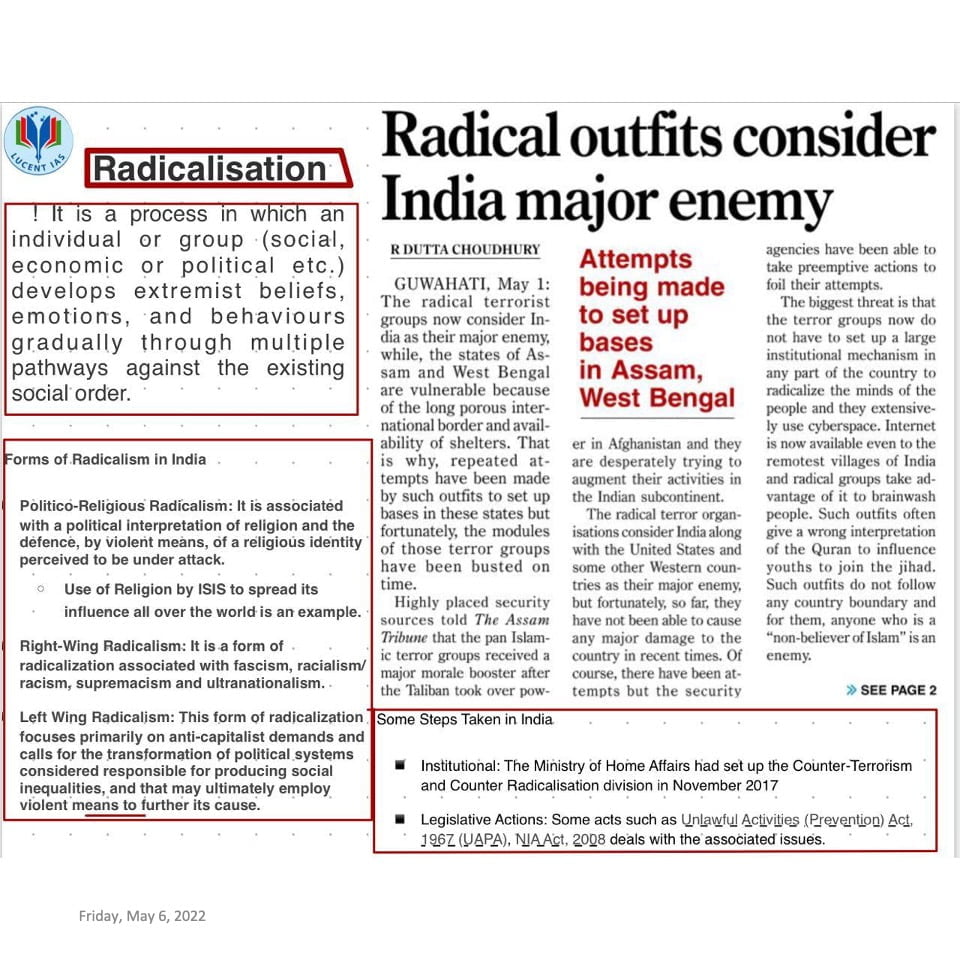 Public interest Litigation (PIL)
Public interest Litigation (PIL) means litigation filed in a court of law, for the protection of "Public Interest".
The chief objective behind PILs is ensuring justice to all and promoting the welfare of the people.
The concept of PILs stems from the power of judicial review.
The Supreme Court of India and the High Courts have the right to issue PILs.
The concept of PILs has diluted the principle of locus standi, which implies that only the person/party whose rights have been infringed upon can file petitions,
PILs been responsible for some landmark judgements in India such as the banning of the triple talaq, opening up of the doors of the Sabarimala temple etc.
Garbage Free Cities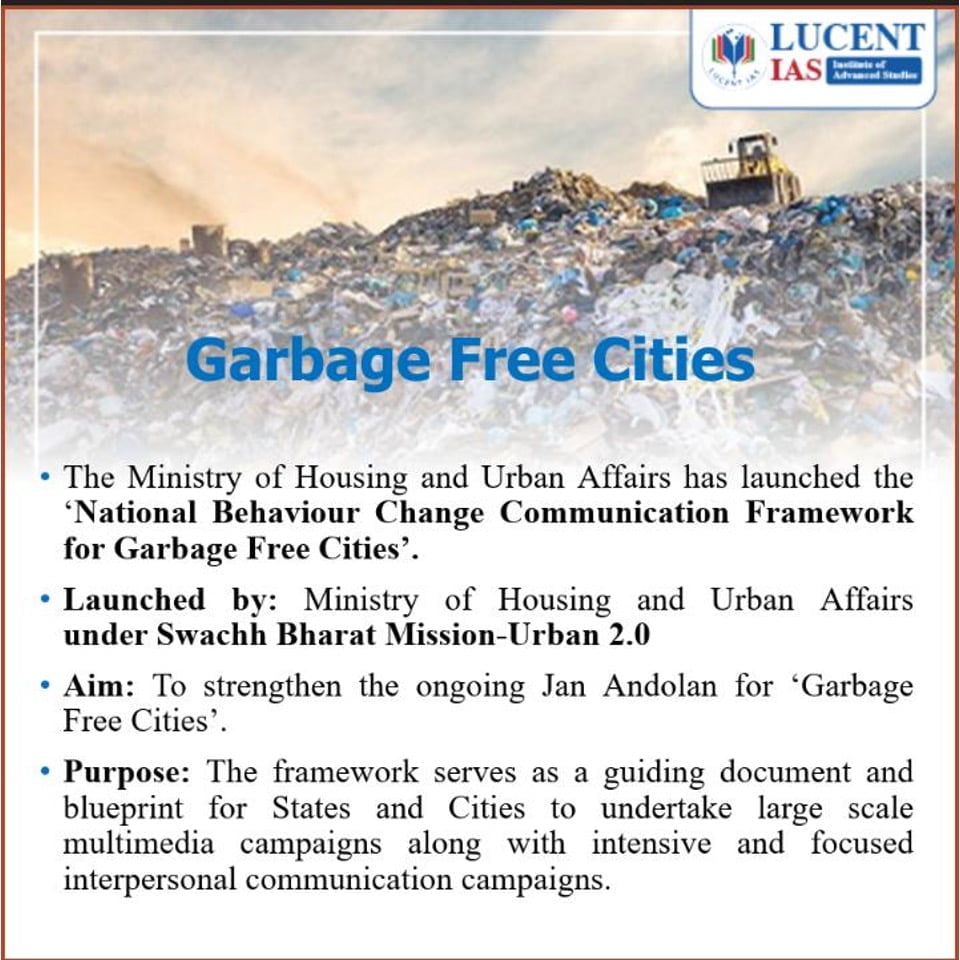 Atal New India Challenge 2.0 (ANIC 2.0)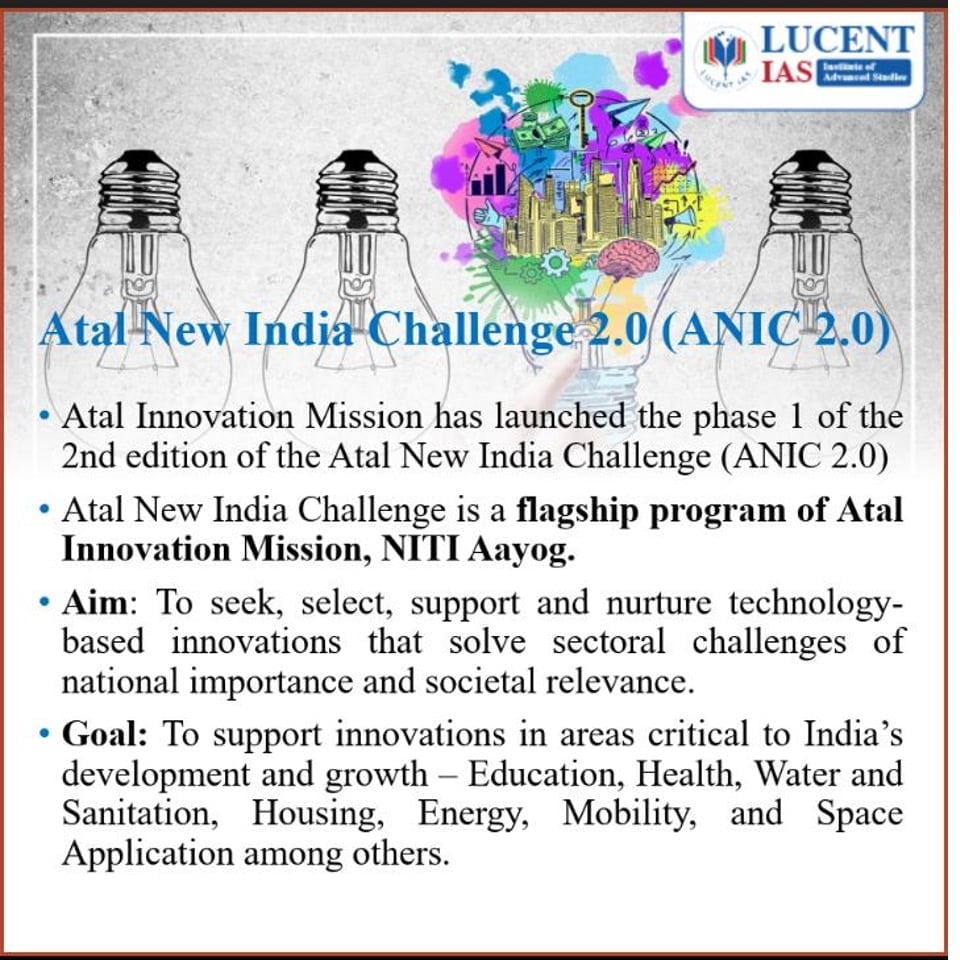 Today's Daily MCQ for APSC Prelims by Lucent IAS- 1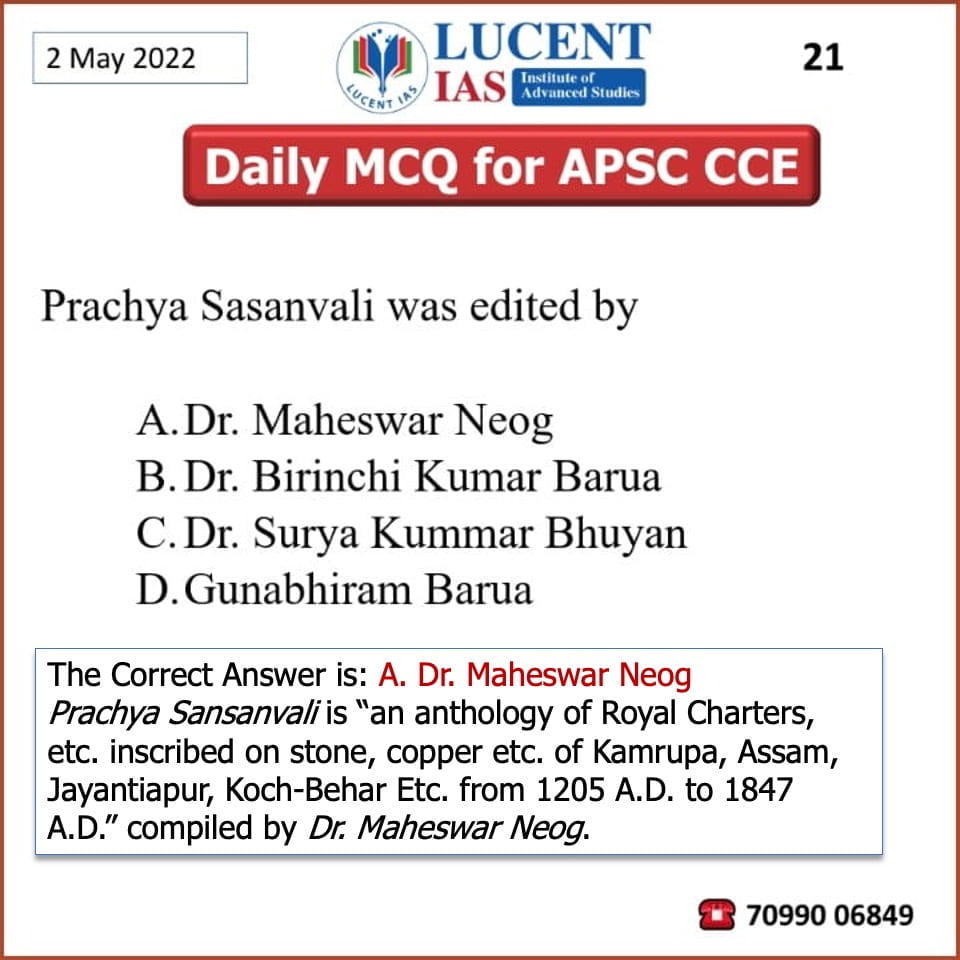 The Correct Answer is: A. Dr. Maheswar Neog
Prachya Sansanvali is "an anthology of Royal Charters, etc. inscribed on stone, copper etc. of Kamrupa, Assam, Jayantiapur, Koch-Behar Etc. from 1205 A.D. to 1847 A.D." compiled by Dr. Maheswar Neog.
Today's Daily MCQ for APSC Prelims by Lucent IAS- 2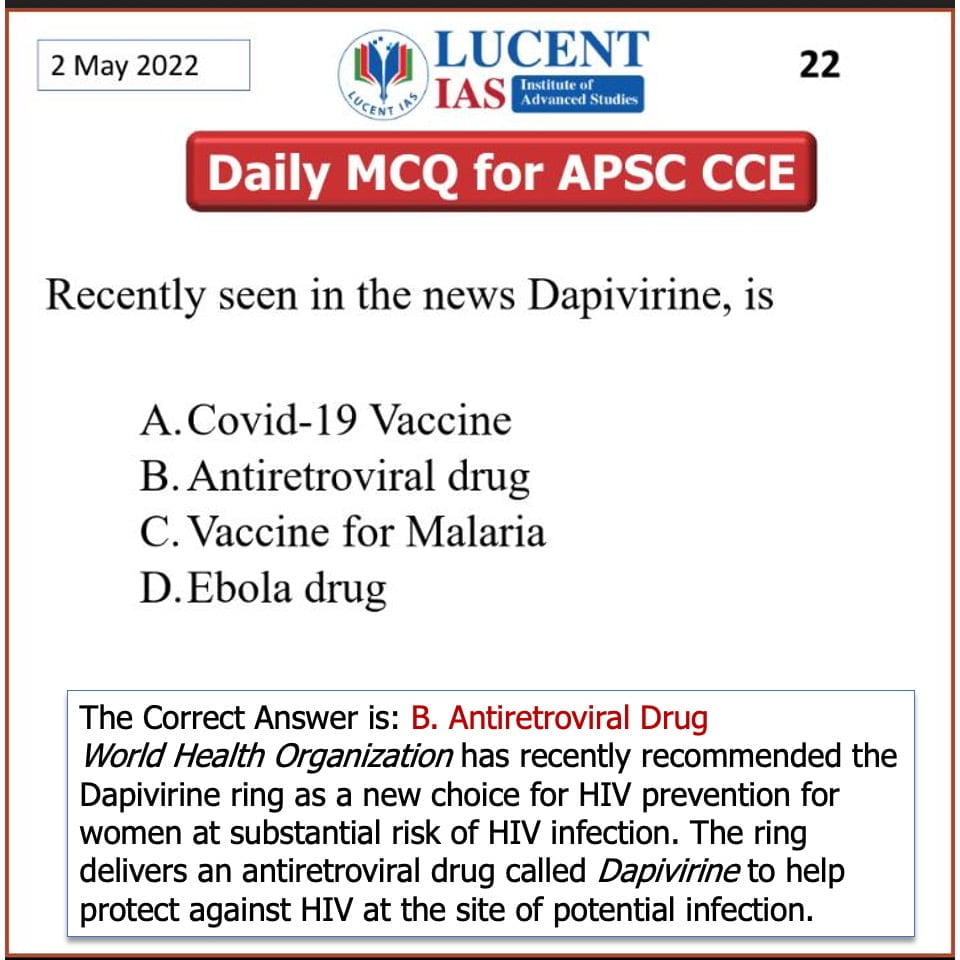 The Correct Answer is: B. Antiretroviral Drug
World Health Organization has recently recommended the Dapivirine ring as a new choice for HIV prevention for women at substantial risk of HIV infection. The ring delivers an antiretroviral drug called Dapivirine to help protect against HIV at the site of potential infection.
Download today's compilation by clicking here.
More from this Blog:
About Lucent IAS:
Lucent IAS is a leading Civil Service Coaching Institutions in Assam. Located in Guwahati, this institution provides best-in-class learning experience and top-class study materials to Civil Service Aspirants targeting UPSC and APSC exams in the Northeast India Region.
To know more, visit our website: www.lucentias.com
Lucent IAS Office Address: Baruah Mansion,First floor, near Apex Bank, Opposite CPWD office, Bamunimaidam, Guwahati, Assam 781021
Mobile/WhatsApp: +91 70990 06849
Follow us on:
Call/WhatsApp: +91 70990 06849