Download The Assam Tribune Compilation and Daily News Analysis and Current Affairs from The Hindu and The Indian Express. Important for APSC CCE and UPSC CSE Aspirants
India's Foreign Policy (Source: The Indian Express)

•Many parliamentarians have raised concerns over India's abstentions at the United Nations and the impact of Indian policy on India's trade and ties with the US.•Developments indicate a possible revival of "rupee-rouble trade" in the wake of economic sanctions against Russian banks and entities.
INDIA'S STANCE:•Indian foreign policy decisions are made in Indian national interest and we are guided by our thinking, our views and our interests. So, there is no question of linking the Ukraine situation to issues of trade, the FM clarified.
What is VVPAT? (Important for GS-2) (Source: The Hindu)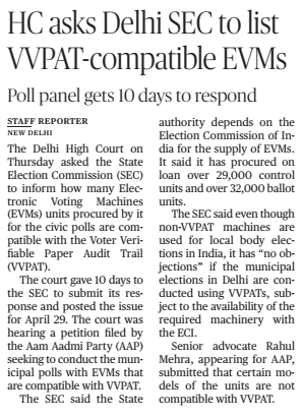 VVPAT is a slip generated in a printer-like a machine attached to EVM and flashes voter's choice of candidate and party. Generated slip is shown for a few seconds to the voter to cross check before it falls into a sealed drop box which can be opened during counting. It allows voters to verify if their vote has gone to the intended candidate. It brings in more transparency and boosts the confidence of people in the electoral process.
Fiscal Deficit and FRBM Act (Source: The Assam Tribune)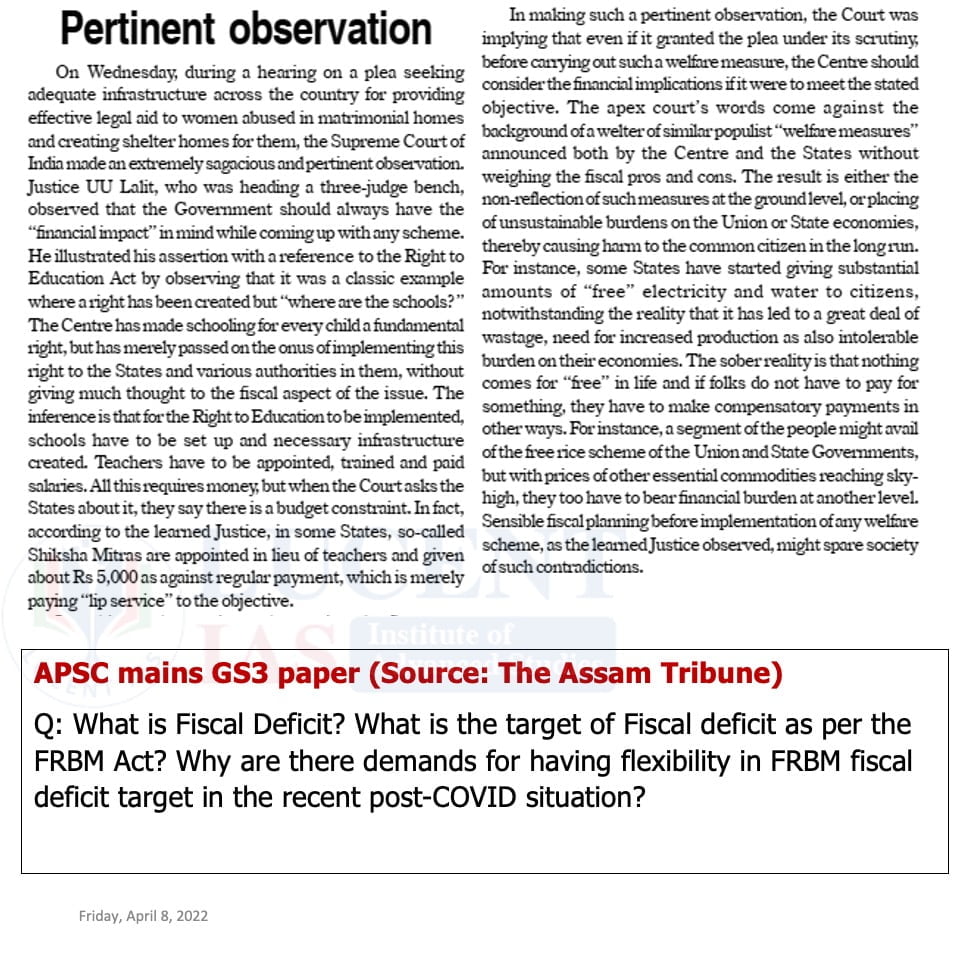 A Questions from APSC CCE 2020 Mains GS3 paper:
Q: What is Fiscal Deficit? What is the target of Fiscal deficit as per the FRBM Act? Why are there demands for having flexibility in FRBM fiscal deficit target in the recent post-COVID situation?
Analysis:
The government describes fiscal deficit of India as "the excess of total disbursements from the Consolidated Fund of India, excluding repayment of the debt, over total receipts into the Fund (excluding the debt receipts) during a financial year"
Fiscal Deficit = Total expenditure of the government (capital and revenue expenditure) – Total income of the government (Revenue receipts + recovery of loans + other receipts).
The FRBM Act mandates the central government to bring down its fiscal deficit to 3% of GDP. However, in the FY21 Budget, the target was relaxed to 3.5%.
For the ongoing fiscal, the Centre is targeting a fiscal deficit of 6.8%, to be gradually brought down to below 4.5% in the next four years.
The NK Singh committee (set up in 2016) recommended that the government should target a fiscal deficit of 3% of the GDP in years up to 31st March, 2020, cut it to 2.8% in 2020-21 and to 2.5% by 2023.
Important for Polity: Constitutional Arrangement for Borrowing by the Government of India by States (Source: The Assam Tribune)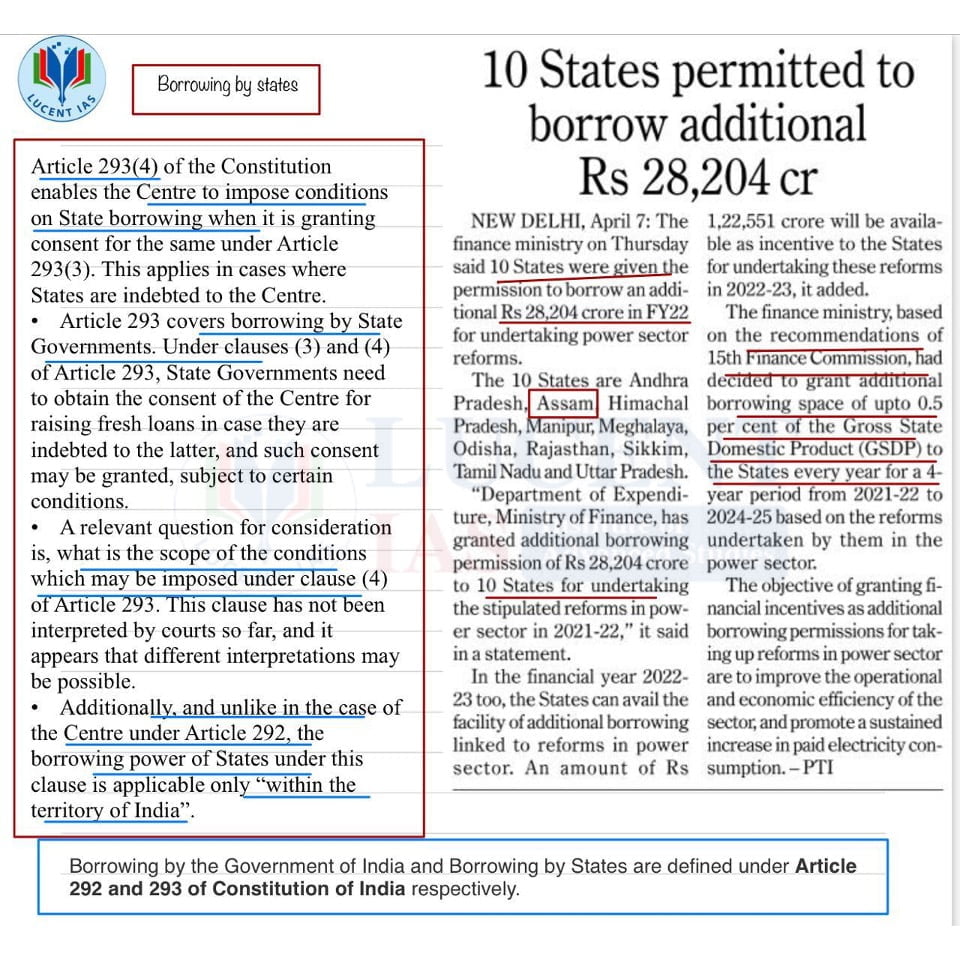 Mission Indradhanush (Source: The Assam Tribune)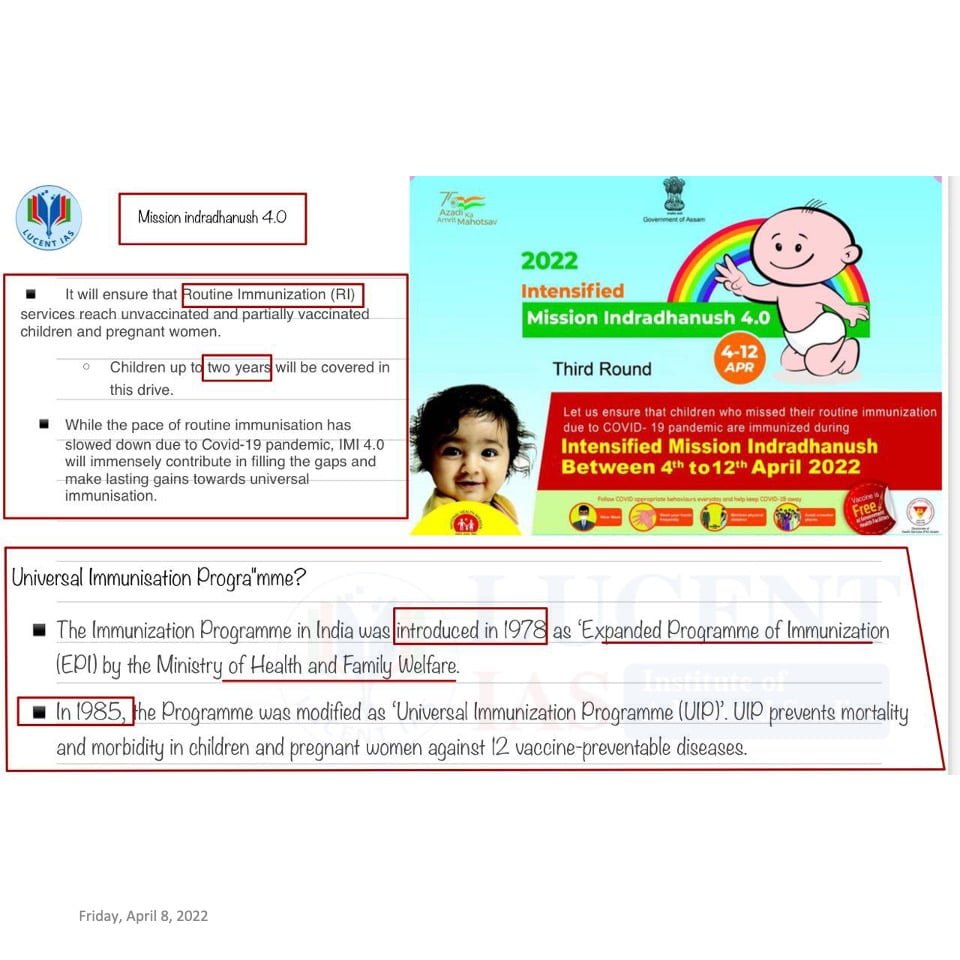 Download today's compilation by Clicking here.
More from this Blog:
About Lucent IAS:
Lucent IAS is a leading Civil Service Coaching Institutions in Assam. Located in Guwahati, this institution provides best-in-class learning experience and top-class study materials to Civil Service Aspirants targeting UPSC and APSC exams in the Northeast India Region.
To know more, visit our website: www.lucentias.com
Lucent IAS Office Address: Baruah Mansion,First floor, near Apex Bank, Opposite CPWD office, Bamunimaidam, Guwahati, Assam 781021
Mobile/WhatsApp: +91 70990 06849
Follow us on:
Call/WhatsApp: +91 70990 06849
Scroll to Top